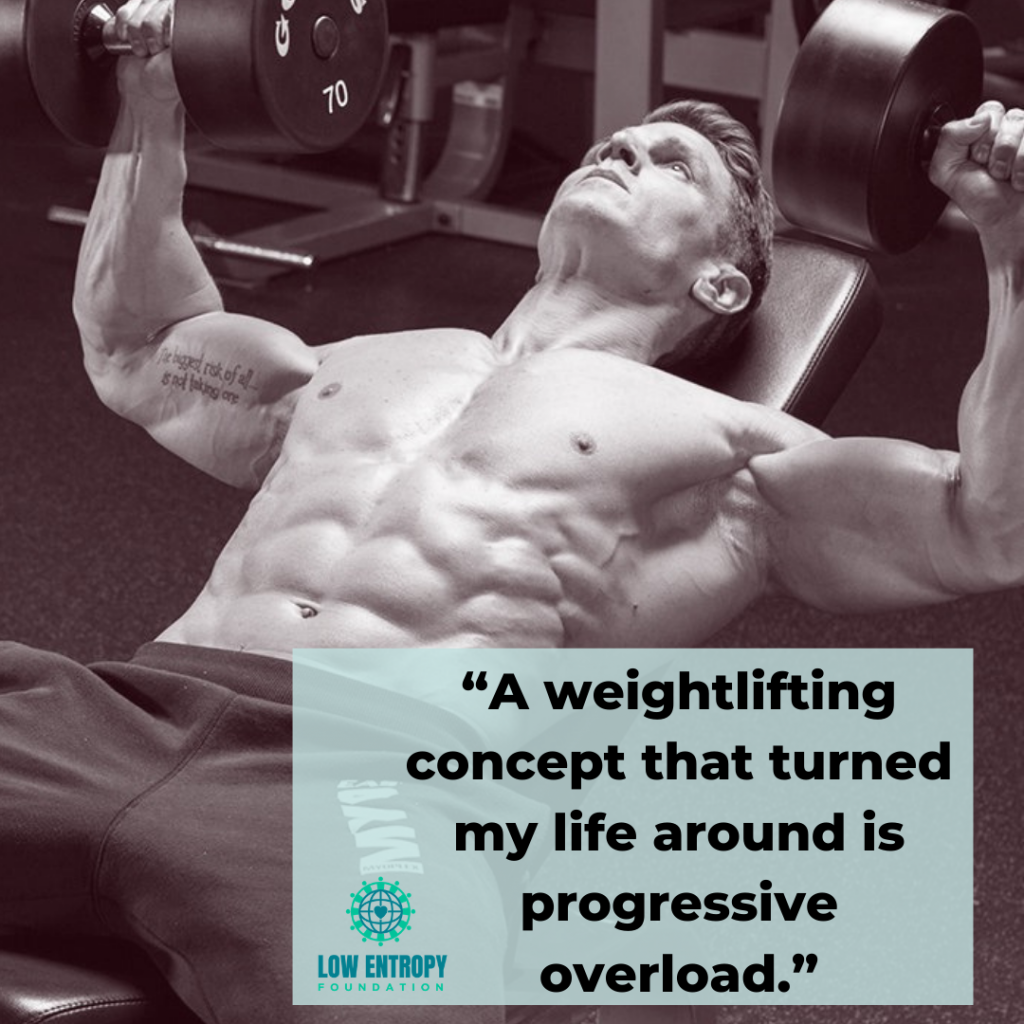 With muscle, iron and insight, Low Entropy Volunteer Writer Siddharth Bala forged valuable lessons in self-improvement.
There is no question that working out can impact your mental health in many positive ways.
A weightlifting concept that turned my life around is progressive overload. The idea is that, as a novice weightlifter, you start by lifting small. The next week you lift a bit more, and then more, until you reach your peak potential. The key word here is "progress": it doesn't matter where you start; you just increase the intensity of your workouts on a regular basis.
Here are three life lessons I took away from the progressive overload concept:
1) Start Small: After a long hiatus from my gym routine, I was shocked to see much of my strength decrease. I wasn't able to lift as heavy as before and was constantly out of breath. I had to start somewhere, and I disappointedly started from ground zero with really light weights. This proved to be a blessing in disguise, as within no time, I could feel myself getting a little stronger and lifting slightly heavier. From the progress I was making, I got an idea. I started inculcating this belief in my daily life as well. If I wanted to get more organized, I started small by cleaning the house just once a week. I wanted to improve my networking skills, so I started by meeting one professional a month. This made me brave enough to try new things without feeling anxious or nervous.
2) Progress Responsibly and Steadily: We often find success in a new habit we develop and become zealous and excited to quickly take it to the next level. Once I had noticed myself gaining a little bit of muscle, I overestimated my strength and began lifting weight that was a lot heavier. Initially, my excitement produced a lot of energy and I was able to manage and lift the heavy weight, but soon enough the excitement died off. I got tired easily and went back to lifting lighter. Seeing myself go backwards, I experienced that familiar feeling of disappointment once more. To recoup, I began lifting light again. Except this time, I progressed at a slow, yet steady rate. This made me feel both comfortable and proud, as I was still progressing. I decided to incorporate this into my plan to develop a solid work ethic: I started with adding just one additional task a month. This way I had enough time to become efficient in my existing list of tasks and kept my stress levels under control by increasing my responsibilities in a steady and stable manner.
3) Set Up SMART Goals: SMART stands for Specific, Measurable, Attainable, Relevant and Time bound. Like the acronym suggests, the goals must be specific, achievable and must include a time frame in which you can work on them. In my workout routine, I regularly set up fitness goals that I want to achieve. All of these goals have a clear number and timeline attached to them. My most recent goal is to be able to run 12 km under one hour by January 31, 2021. I can always gauge my performance relative to the timeline in this goal, to see if I am on track. If need be, it is also easy to adjust these numbers and timelines. By incorporating such a setup into my daily life, I find it easier to prioritize and manage time.
How has fitness improved your daily life, and what lessons have you learned while working out? Head over to our comments section or drop in on a Low Entropy meetup to let us know!