Love Yourself Like You Love Yourself
February 14, 2021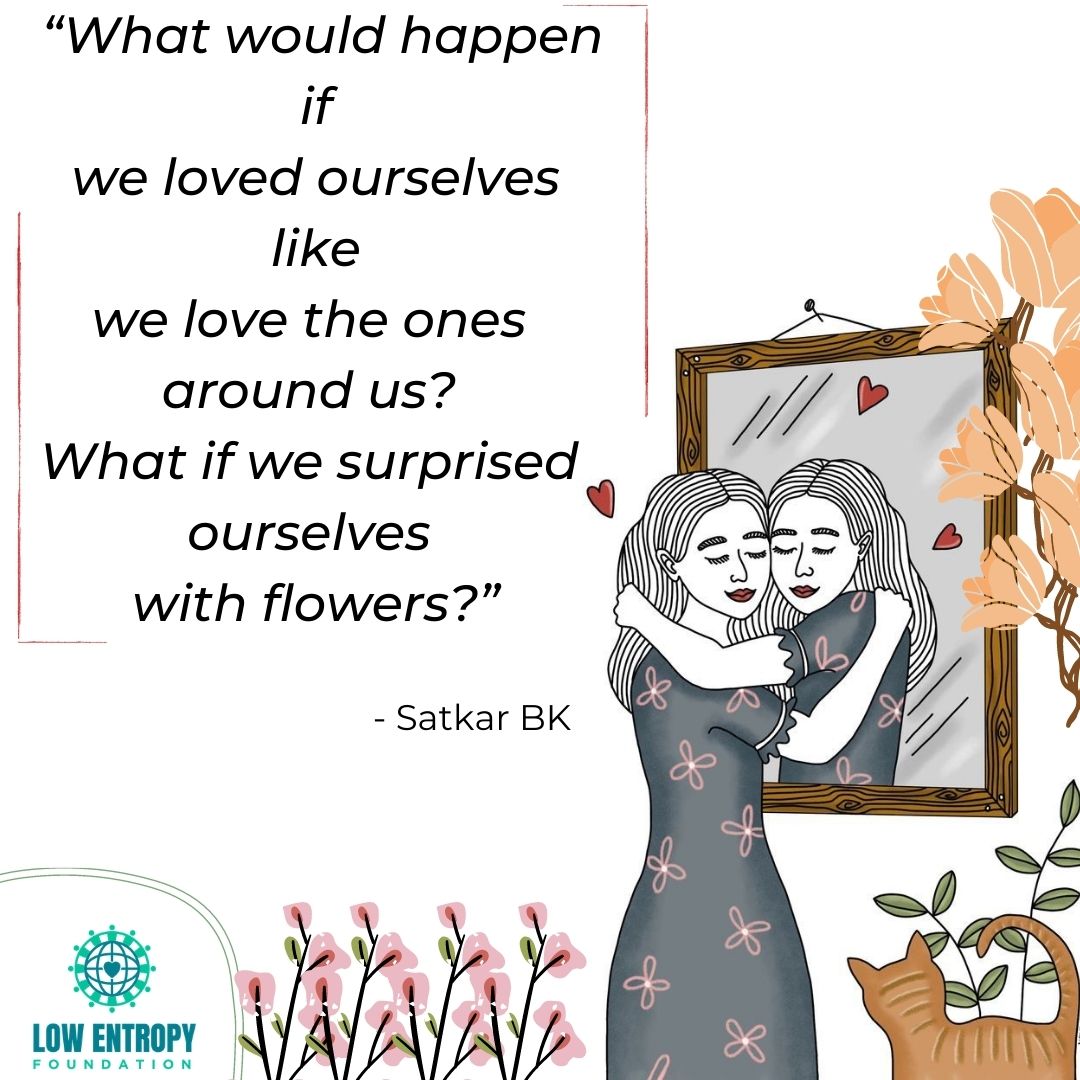 During this time of year, the world reverberates with proclamations of love for families, friends and partners, but Low Entropy Volunteer Writer Satkar BK reminds us that we also need to love ourselves with that same energy. 
Every February, I can't help but see all the love in the air. Whether it be watching rom-coms or marriage proposal videos on YouTube, I find myself drawn to the idea of love during the most romantic month of the year. It's easy to imagine a lot of us being attracted to the idea of love. We, humans, are social creatures by nature, and love is another way for us to be connected. Although science may say love is purely a chemical reaction to help us reproduce as a species, anyone who has ever been in love will tell you that it is so much more. Love can be the greatest feeling in the world, or one of the most terrifying, sometimes at the same time. The feeling of love has fueled incredible things throughout history, from the story of The Iliad to the invention of medical gloves. When we have someone we care for so deeply, we can seemingly accomplish anything. 
This leads me to the topic for today's blog. What would happen if we loved ourselves like we love the ones around us? What if we surprised ourselves with flowers? What if we stayed up late to watch our favorite shows? What if we helped ourselves through our toughest times without any hesitation? It's remarkable to think of the many things we could do at a drop of a hat for our parents, friends and loved ones, in contrast to how difficult it may be to give ourselves even one compliment. I could tell my partner how her smile could outshine a supernova, but I cringe when I stare too long into a mirror. I could shower my cat with all the affection she can handle, but I struggle with patting myself on the back. What I've discovered is the love that I feel for others is so much stronger than the love I allow for myself. 
The reason I and many others struggle with treating ourselves the same way we treat others is because we see ourselves for our mistakes and imperfections, and see others for the best versions of themselves. We accept that no one is perfect, but expect perfection from ourselves. This Valentine's Day, why don't we take the challenge to love ourselves like we love others. To see ourselves as amazing in the way that others do, and to look past the little problems that exist only to us. This is a difficult concept that I haven't come close to mastering, but it's one that is incredibly important. We have an infinite amount of love to give throughout our lives and it would be a shame if we could not give some of that love to ourselves. Even if it's just a little bit, I ask every single person who reads this to take just a moment, look at all the wonderful things you've done in your life, look towards the wonderful things you will continue to do and say, "I love you." 
Loving yourself can be challenging. We all need help in one way or another. Low Entropy is dedicated to helping you . . . yes, you! . . . appreciate how wonderful you truly are: keep an eye on some of the programs we offer and start by telling us what you love about yourself this Valentine's Day.
GET INVOLVED
At Low Entropy, we believe changing the world starts with changing ourselves.
Founded in 2015, Low Entropy Facilitates conversations that encourage diversity and promote inclusivity.

We understand that life can be confusing at times. It can seem challenging and sometimes you may feel like no one really "gets you." We offer an opportunity to connect with others who have the capacity to understand you.