Mental Health & My Son
June 22, 2022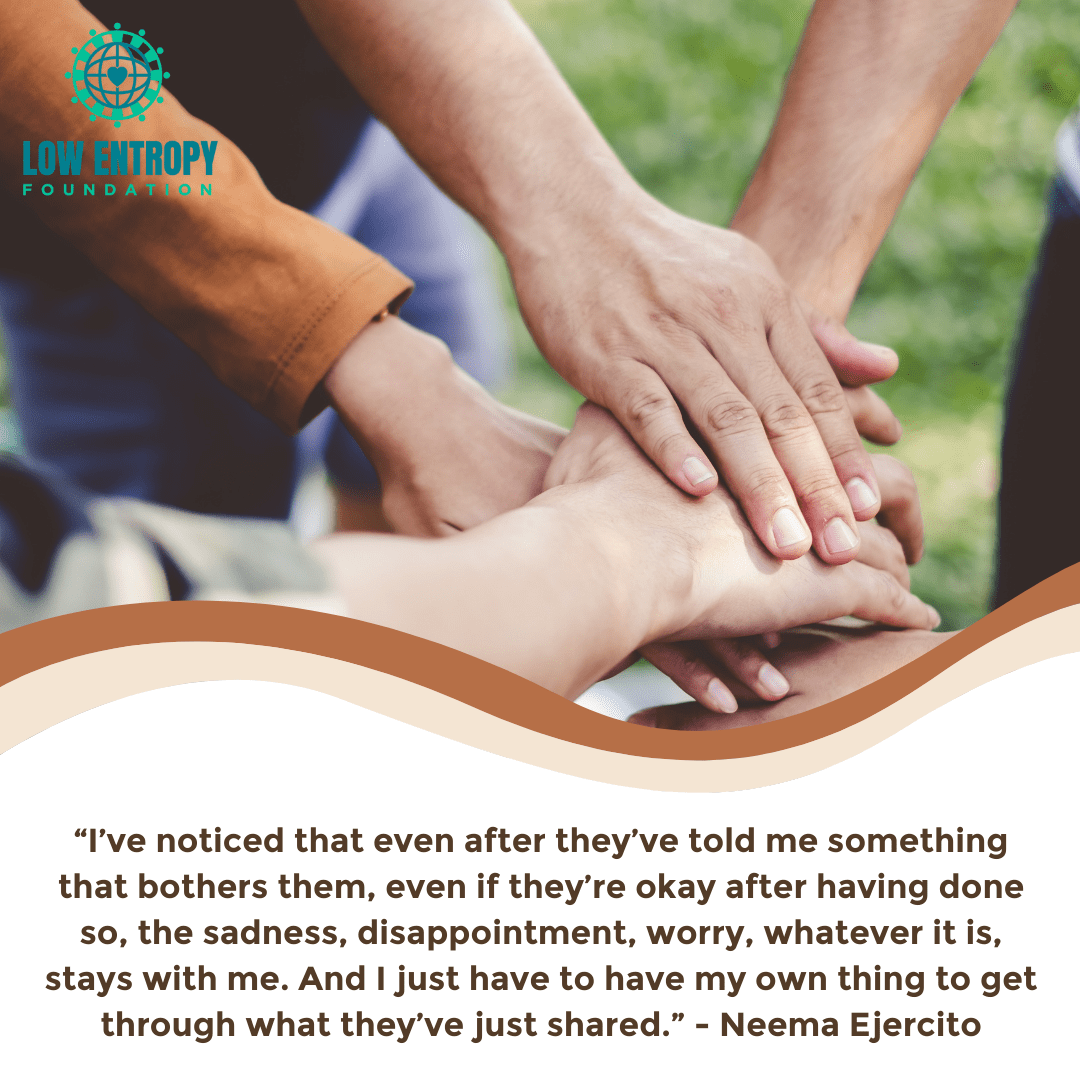 Neema Ejercito (she/her/hers), Low Entropy Volunteer Writer
I hate my mother's heart sometimes. I think I complained about this to my husband when our boys were both toddlers. When I had just been freed from breast-feeding, upgraded to a stroller that doubled as a shopping-bag hanger, and had them bring their own mascot-brand bags complete with water bottle, snack, wipes, pull-ups, and a change of shirt. I told my husband how unfair it was that we fell in love with our boys in spite of being peed, pooped, and barfed on. The sleepless nights, the painstaking balance between taking the high road vs. meltdowns, and then the reward of it all is that they can leave us and function as independent adults?!
Although I have somehow shared this sentiment with my boys, I have also always ended with the fact that I would not have it any other way and that I would do anything I can for them. I am very fortunate that my boys, now in their teens, talk to me candidly about their friendships and fears. Lately, I've noticed that even after they've told me something that bothers them, even if they're okay after having done so, the sadness, disappointment, worry, whatever it is, stays with me. And I just have to have my own thing to get through what they've just shared. I'm thankful I have that in my husband.
Today, we allowed our son to take a mental health break. What started off as a regular school day started to feel peculiar when he kept lingering around me and my husband and hugging us over and over again. I finally asked him what was up, and he shared that the bombing of Ukraine really shook him (sorry for the pun). I had told him before about a comedian who talked about how adults and kids are living in reverse now. When this comedian asked his adult friends how they were doing, they talked about video games they played or movies they'd seen. But when he asked the same of his teen nieces and nephews, they talked about politics or climate change.
Just like this comedian, I was worried for our teens and for mine even more particularly. My gut reaction to comfort my son was to tell him to play video games but he had already been playing a lot of them. Instead, I tried to tell him that the best way that he could help in the situation was to actually make the most of what he had, to go to school, do his best, etc. I told him that right now, a teen his age in Ukraine would be wishing he were anywhere else but there and that all he had to think about was the boredom of school.
I asked him if staying home would help, and he said it just didn't seem fair that he would get to stay home on top of what was happening. I told him that Daddy had done the same for me when I was down to the point of paralysis, and that we would do the same for him. At that point, he relented and went up to his room for a bit.
The thought that I had two other kids to get to school kept me from completely breaking down, but as I loaded up the dishes into the dishwasher, I could feel the hot tears about to burst. It was a good thing my eyes caught my other son's sandwich still in the toaster oven. He might forget to bring it to school again. I reminded him about it, and thankfully, he cracked a joke.
So today, just as my husband has done for me countless times before, we are taking my son out on a mental health date. I am so, so happy he came to me, and that we can still do something about it with him. I feel for teens similar to him, who are overwhelmed by the world that we teach them to be positive about, even though we've made such a sh*t pile of a mess.
I really don't have any answers for my son. I don't even have any for myself! All I know right now is, I'm here for him.
—
Neema Ejercito is a professional writer, director, and creative writing mentor. Her 3D edutainment series for beginning readers, AlphaBesties, is showing in YouTube Japan and Prairie Kids. When she's not writing or mentoring, she manages her household with her very supportive husband and three children.
GET INVOLVED
At Low Entropy, we believe changing the world starts with changing ourselves.
Founded in 2015, Low Entropy Facilitates conversations that encourage diversity and promote inclusivity.

We understand that life can be confusing at times. It can seem challenging and sometimes you may feel like no one really "gets you." We offer an opportunity to connect with others who have the capacity to understand you.