The Problem with Goodbyes
November 14, 2021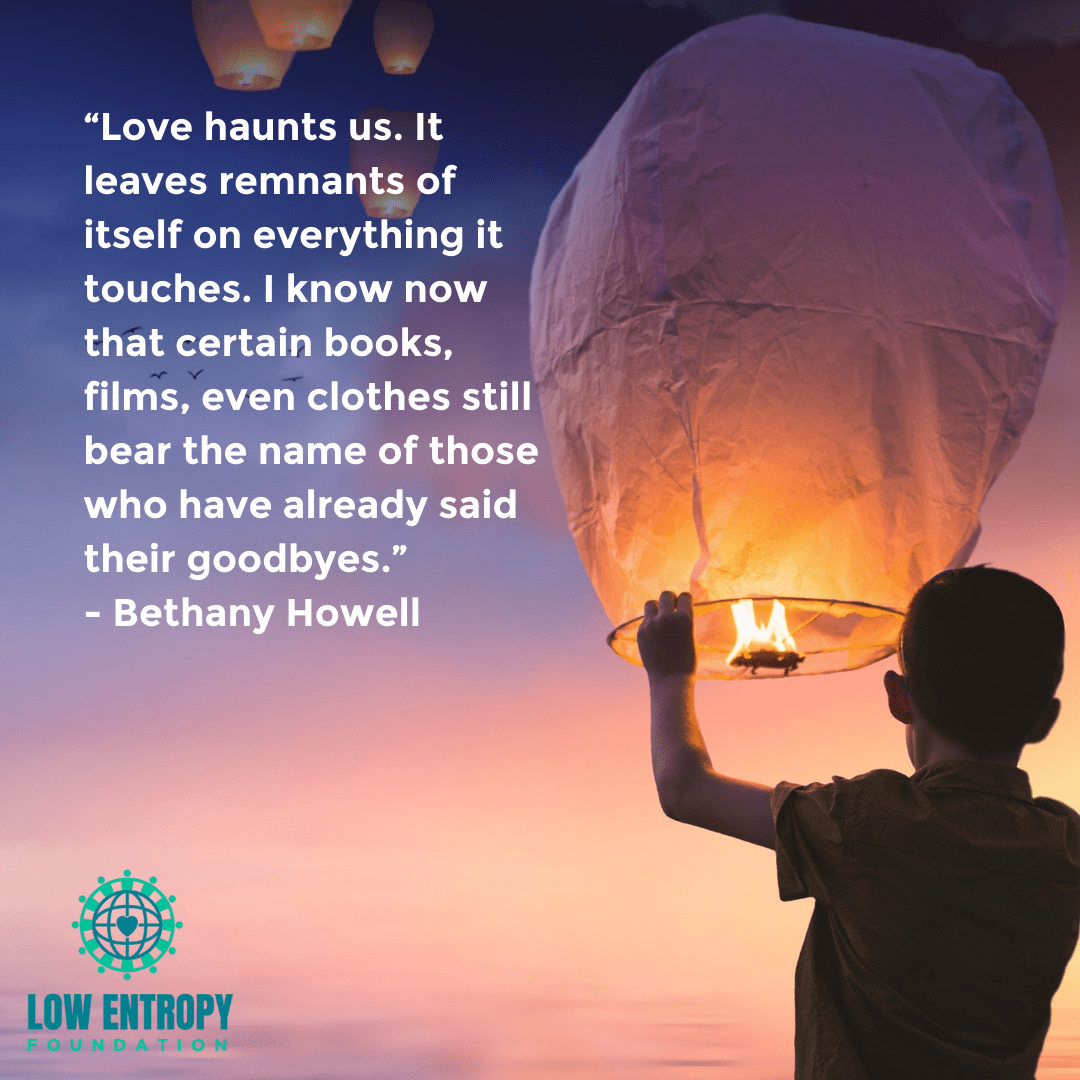 Bethany Howell (she/her/hers), Low Entropy Volunteer Writer
I have always had trouble letting go. For as long as I can remember, I have held onto the past far too tightly, distracting me from the present. Saying goodbye has been especially difficult for me: the finality of it was far too much for my naïve mind to take. Once someone was gone, there could be no more conversations, no more gentle touches, no more time spent in each other's company. I can recall doing just about anything I could think of to be able to spend five more minutes with my best friend or one more night at summer camp. Yet, no matter how hard I fought, I would always end up having to say goodbye through tear-clouded eyes.
Leaving was tough, not only because the good times were over, but also because I knew they would always be held within my memory. I could replay the time I had over and over in my mind, yet I could never truly relive it. As time marches on, memory fades. What used to be recalled in vibrant colour dulls with each passing year. However, with this, the wounds left by those who had bid farewell began to heal. Scars remained, but the pain subsided.
As I grew, I began to accept the small losses, but I was still unable to shrug off the greater issues. I lost my closest friend nearly a year ago. She had chosen to become involved with situations that hurt her and left me when I could no longer support her. I wish I could say that I never blamed myself, but to do so would be a lie. I spent months gathering evidence for what I had done wrong – reversing time in my mind and replaying scenarios to figure out how to 'fix it.' There was, of course, no way to resolve this issue. My family and my partner assured me that I had done the best I could and that I held on longer than most friends would have, yet I still hung onto what had happened, never letting myself forget the small mistakes I had made.
I realize now that it was never really saying goodbye that I had an issue with, nor was it losing those close to me. The hardest part was what was left after the fact. The hardest part was knowing that it will never really be over and that the goodbye was not the grand finale I had hoped for.
Love haunts us. It leaves remnants of itself on everything it touches. I know now that certain books, films, even clothes still bear the name of those who have already said their goodbyes. I cannot help but be reminded of those who have hurt me and those who had to leave far too soon, but I can choose to not let it affect me negatively. Life will always be filled with memories, both good and bad. It is a curse, yes, but it is also one of the greatest parts of living. Without the bad memories, how could we learn? Without the good, for what would we be living?
To truly live in the present, one has to let go of the past. That does not mean totally forgetting what has occurred, but instead remembering and accepting it. Memories may have the power to overtake us, but we also have the power to use them. I am still working towards accepting what happened between myself and my friend; however, I am no longer ashamed of what I did. Though it is a small step, I am proud of myself for trying to improve. 
Life can be difficult to navigate, especially when you are carrying years of baggage, but there is always hope and I am choosing to focus on the good. I do not plan on dropping all the weight of what has occurred, but I do try to lighten the load day by day. After all, acceptance is a process, not a sudden state of being. Though I am no expert on this topic by any means, I can honestly recommend acceptance of the past and focus on the present to anyone struggling with letting go.
—
My name is Bethany Howell and I am a third-year university student majoring in psychology and minoring in family and child studies. I have a passion for writing and mental health and my ultimate goal since age 13 has been to make a difference in the world through helping others, which is how I ended up here at Low Entropy!
GET INVOLVED
At Low Entropy, we believe changing the world starts with changing ourselves.
Founded in 2015, Low Entropy Facilitates conversations that encourage diversity and promote inclusivity.

We understand that life can be confusing at times. It can seem challenging and sometimes you may feel like no one really "gets you." We offer an opportunity to connect with others who have the capacity to understand you.