Variety Shows
August 27, 2021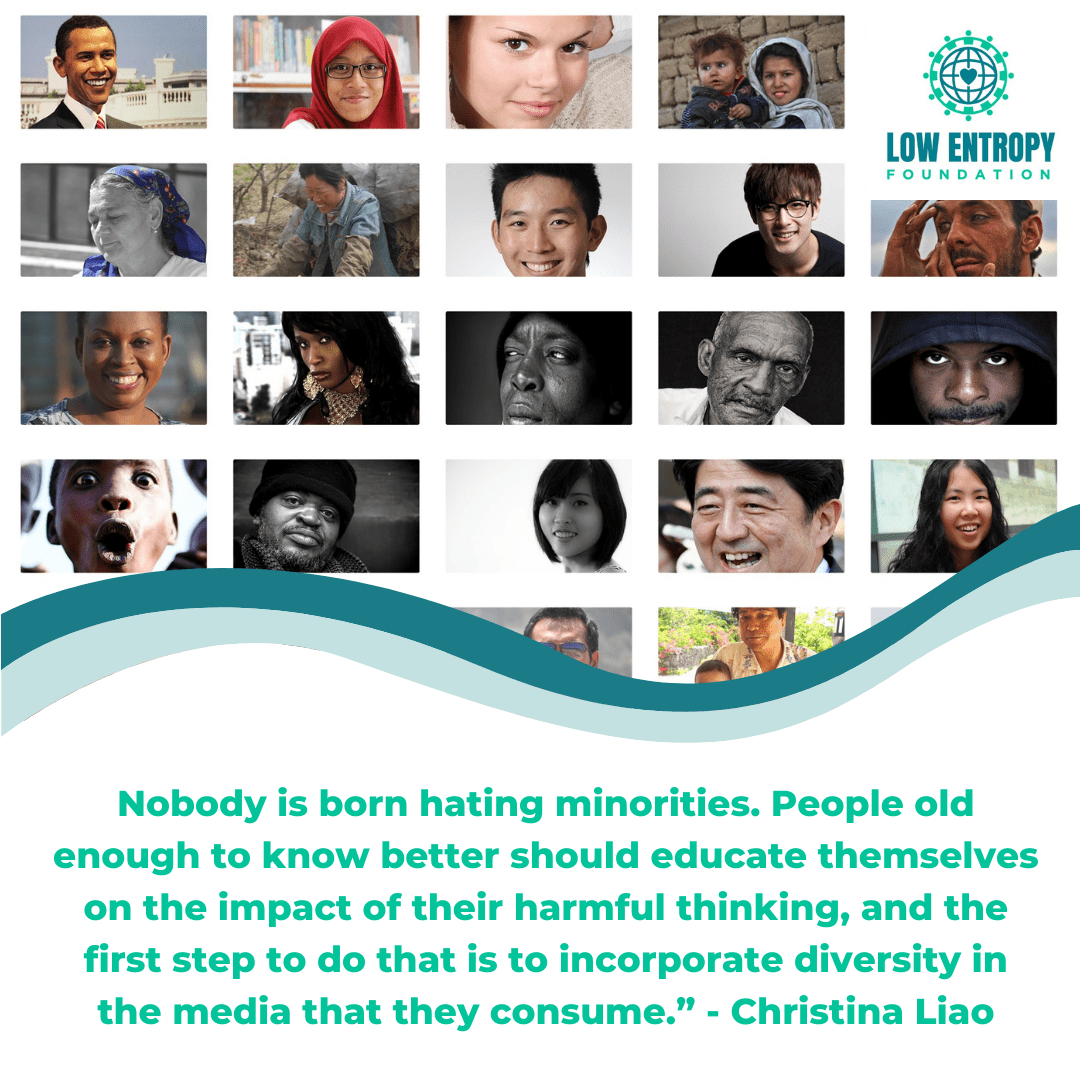 Low Entropy Volunteer Writer Christina Liao comments today's diversity of representation in television, books, movies and music, and its significance in creating a more progressive society.
As the general population advocates for popular media to become more diverse in its representation, it's important to understand why these changes are happening. During the summer of 2020, the Black Lives Matter movement took the spotlight after the murder of George Floyd. Since then, minority representation has become more prominent point in shows, movies and literature alike. Even before that, diversity in art was becoming more and more notable. This is a good thing because it is the first step towards accepting people of colour and LGBTQ+ people into our communities.
When the popular Fox TV show Glee first aired at the beginning of the decade and introduced fan favourite gay character Blaine Anderson (played by Darren Criss), it was considered progressive. In fact, Criss has played several gay characters, and has spoken about how "blessed" he feels as a straight male being accepted in the LGBTQ+ community. Now, however, casting a straight actor for any LGBTQ+ character is in fact regressive as it takes away opportunities from LGBTQ+ actors, and Criss himself has pledged to no longer take gay character roles for this reason.
Another good example of increasing diversity in media is the beautiful novel written by Angie Thomas called The Hate U Give, which was published in 2017. It touches on the difficulties Black individuals face in modern America, and the discrimination that African Americans face every day. The Hate U Give won awards such as the Goodreads Choice Award for Best Young Adult Literature and has since then been turned into a movie released in 2018 starring Amandla Stenberg, whom you might know as Rue from The Hunger Games. The film received 22 award wins and 37 nominations, including best supporting actor and breakout performance from the African American Film Critics Association. 
As we talk about diversity in the media, it's important to continually recognize bodies of work that have showcased marginalized populations. Authors Becky Albertalli and Adam Silvera both write novels that have wonderfully written and lovable LGBTQ+ characters. Chloe Gong's debut novel These Violent Delights is a Romeo and Julliet retelling featuring a Chinese female protagonist and a Russian male protagonist set in 1920's Shanghai, China. The phenomenon that is Cemetery Boys by Aiden Thomas is a New York Times Best Seller list history-making novel because it's the first time that a trans author with a trans book has made it onto said list. Although Thomas has stated that their book should "NOT have been the first" in a tweet, they have also said that it "sure as hell is NOT GOING TO BE THE LAST." 
Celebrities such as Demi Lovato, Sam Smith and Camila Cabello have used their platforms to spread awareness, which has a huge impact on the way that important issues are seen. Camila Cabello talks about current events on her Instagram almost every day, and an artist as famous as Demi Lovato coming out as non-binary is an important precedent for the LGBTQ+ community. While our world is no way perfect, the first step toward it becoming safer for minority groups is accepting them.
As we become more inclusive, it should be understood that accepting others is the first step towards accepting oneself. Only through loving those around us can we begin to love ourselves. Becoming less bigoted is a journey, and the only way to start is understanding why stigmatization is is wrong. Homophobia, transophia and racist ideals are taught. Nobody is born hating minorities. People old enough to know better should educate themselves on the impact of their harmful thinking, and the first step to do that is to incorporate diversity in the media that they consume.
What shows or books have captured your attention recently, and what have you learned from them? Let us know in the comments below, or on any of our social media platforms!
GET INVOLVED
At Low Entropy, we believe changing the world starts with changing ourselves.
Founded in 2015, Low Entropy Facilitates conversations that encourage diversity and promote inclusivity.

We understand that life can be confusing at times. It can seem challenging and sometimes you may feel like no one really "gets you." We offer an opportunity to connect with others who have the capacity to understand you.