Live Aloha
February 17, 2021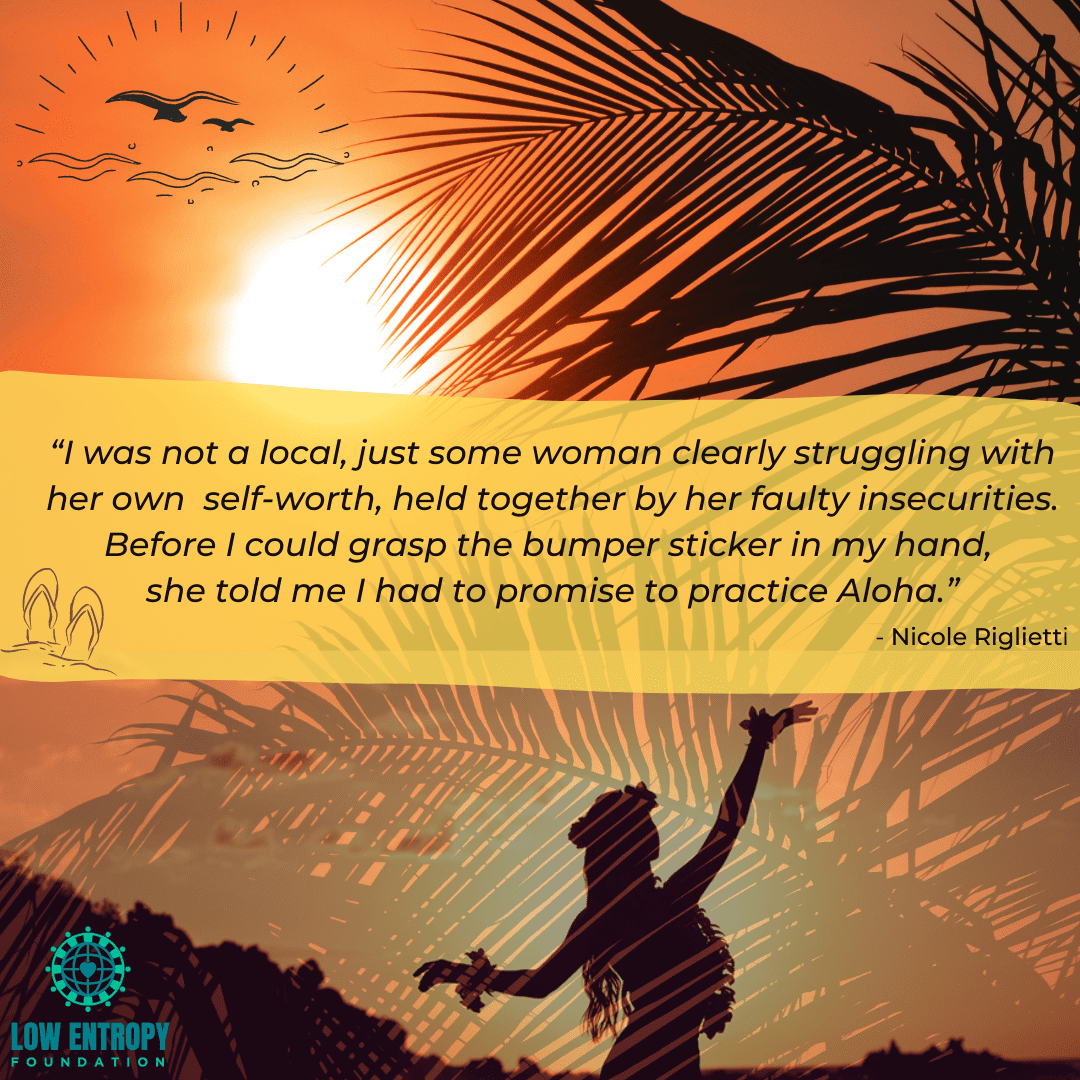 Low Entropy Volunteer Writer Nicole Riglietti takes us on a transformative voyage, escaping from despair and self-contempt to Hawaii and the curative love of the Aloha Spirit.
With the carefully constructed confines of society, it is amazingly easy to feel lost in the day to day, in the moments and minutes of a grim reality. Lost in the crippling anxiety, lost in pleasing everyone, lost in self-neglect. A few years back, I was lost to who I was. On an unglamourous healing journey of self-discovery, I found kindness, compassion and self-love. Drowning in my own skin, stuck in the wretched grasp of my tormented mind. I felt like a captive prisoner held hostage to past hardships. It terrorized me as fierce flames engulf a house burning from the inside out. There was nowhere left to run. I felt my heart, mind and soul fill with self-loathing, unworthiness and the inescapable illusion of being unlovable. I felt it deep within my core, a belief I carried and held on to for years. Staring at myself in the mirror, screaming, begging, pleading for me to love me – all of me. Mocking tears gushed down my cheeks, and I had enough. I couldn't escape my painful existence, so I escaped my surroundings and all the people in it. 
"The Aloha Spirit" . . . her words echoed as they left her lips, bouncing off the corners of my racing mind. 'Aloha' was nothing but a greeting, simply 'hello', 'goodbye'. How could it mean anything more? On the plane I ruminated over my self-destructive ways and inability to feel love for myself, only  interrupted briefly by the flight attendant's safety plan. 
"When the oxygen masks eject, put one over yourself first before helping the child beside you." Even in the greatest heights of tragedy, one must help themselves first, before helping another. One must love themselves first, before loving another. What a concept. At the time it was completely foreign to me. 'Self-love' – what does that even mean?
Landing in Hawaii, I felt a sacred energy buzzing throughout the majestic island of Maui. Aloha. Just one word held so much power indeed. I saw it everywhere. Black bumper stickers with bright red lettering read 'Practice Aloha', and these bumper stickers were posted all over, hidden in plain sight to the untrained eye. When the locals said "Aloha," it carried great weight. I discovered Aloha meant respect, honour, kindness, compassion, love, hope, responsibility, acceptance, openness and joy. All these profound words, these attributes embody the Aloha Spirit. Given to others, and especially to one's self first. It never occurred to me that I should be treating myself in this way. Holding enough respect for myself to take care of me. Honour my worth, my skills and talents. Have the responsibility to fill my life with that which brings me joy. Speaking to myself with gentle kindness and compassion. Accepting all of me just as I am. Showing up for myself, having the courage to fight for a love I can be proud of and feeling completely whole.
Like trust, love has many layers that take years to build. I'm still building these layers. After much grueling inner work, I have a foundation which grows stronger daily. I found myself accepting my sorrow and celebrating my joy, for they are two sides of the same coin, forever intertwined. As I released the resistance, I also let go of all the fear, shame and doubt. I had courage to follow my heart.
I went on a hunt for this bumper sticker so that I might be reminded to practice Aloha. A woman stared at me oddly at my request, as I was not a local, just some woman clearly struggling with her own self-worth, held together by her faulty insecurities. Before I could grasp the bumper sticker in my hand, she told me I had to promise to practice Aloha. This calmed some of my anxieties, yet doubt is a persistent thing, always lurking in the shadows, pouncing on the vulnerable. Especially when one had been battling the darkness within, it was difficult to trust a newfound freedom.
Waiting for a bus to take me to the airport. Doubt and chaos controlling my mind, questioning the hallmark advertisement of 'Aloha', a kind "Hello" brought me back to my surroundings. On my left there was a cute old man who wanted to talk. To my amazement he brought up the 'Aloha Spirit', filling me with absolute hope. It raised my vibrations. How could he know that I've been focused on this phrase? I felt connected to him, connected to the ebbs and flows of the universe. As a native to Maui, he had a deep understanding of what the Aloha Spirit meant. His late wife, born and raised in New Jersey, had had it. He didn't think it possible for a person not native to Hawaii to be filled with the Aloha Spirit.  In that moment, for different reasons, we both marveled at the possibility. 
After being strangled for years by suffering, when I gave into the idea of self-compassion, I began to feel lighter. Self-compassion opened the doors to the 'Aloha Spirit' and living in Aloha led me to the unconditional love I feel for myself, where I truly feel wholeheartedly complete. Self-love has shifted my perception on life, and I am genuinely able to spread the joy within me to those around me. Though the healing journey is a long, winding road, feeling like utter destruction at times, don't give up. Keep going. Practice self-love. Live Aloha. 
Everybody has a spirituality specific to them – tell us about yours in the comments or at a Low Entropy meet-up . . . who knows? You could be one of those special moments on someone's journey to self-love.
GET INVOLVED
At Low Entropy, we believe changing the world starts with changing ourselves.
Founded in 2015, Low Entropy Facilitates conversations that encourage diversity and promote inclusivity.

We understand that life can be confusing at times. It can seem challenging and sometimes you may feel like no one really "gets you." We offer an opportunity to connect with others who have the capacity to understand you.