The Importance of Humour as A Form of Stress Relief
July 27, 2022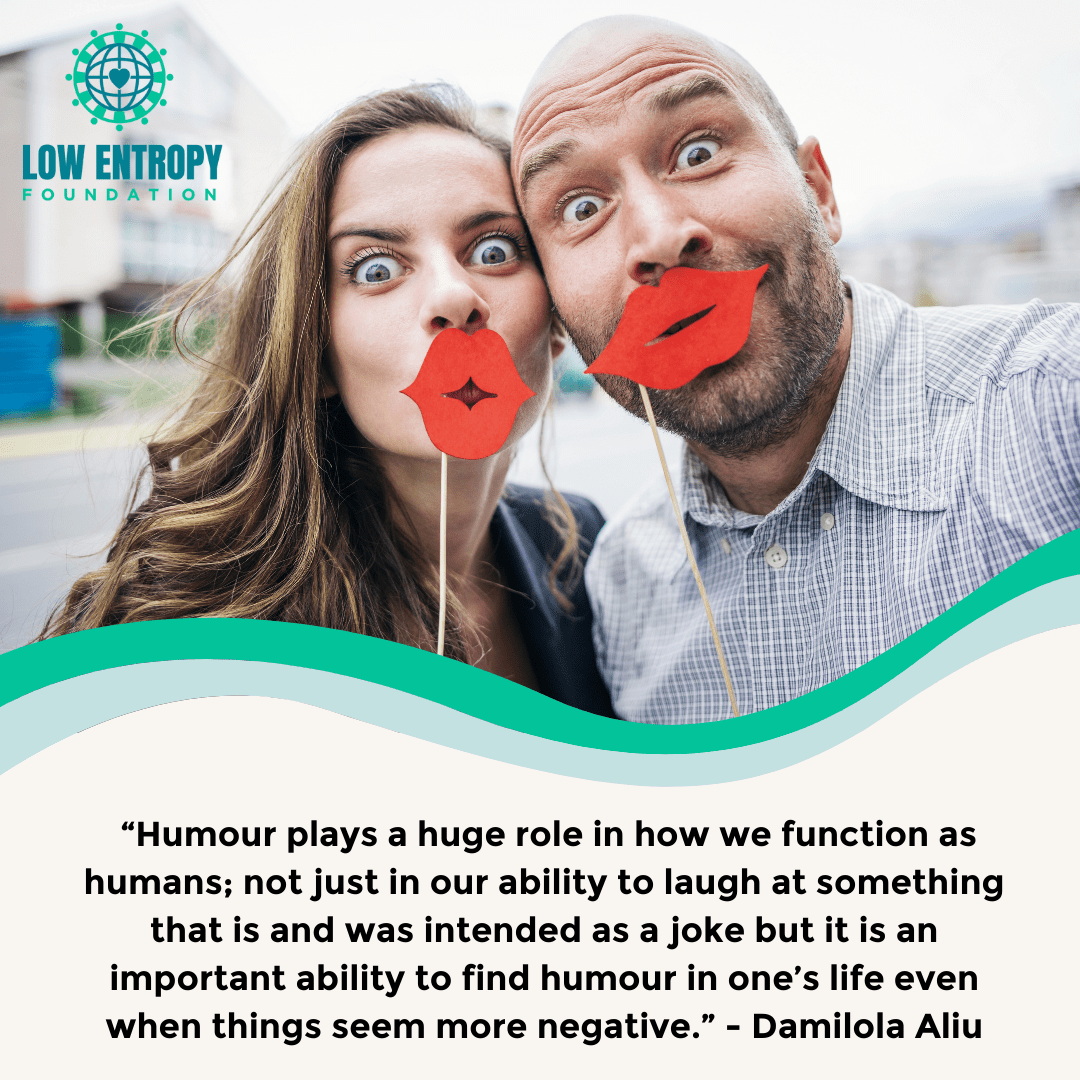 Damilola Aliu (she/her/hers), Low Entropy Volunteer Writer
On the 20th of October 2020, in Lagos Nigeria, the police opened fire on peaceful protesters at the Lekki toll gate. Prior to this, protesters had taken to the streets of Lagos to protest against the rampant cases of police brutality perpetrated by the Special Anti-Robbery Squad (SARS). Young Nigerians were on the street for over two days calling on the government to disband the unit due to their excessive use of force and illegal conduct, which had led to the deaths and alleged disappearances of young men and women in Nigeria. The atmosphere of this protest was sad for obvious reasons; people who had lost a loved one at the hands of these officers came out to share their heartbreaking stories of what they had had to endure for months or years unending. 
By now, any onlookers know that stress isn't foreign to Africans and Nigerians alike, so there were bound to be funny hot takes about the protest. So on one hand, while Twitter was abuzz with think pieces on the political implications of the #EndSARZ movement, there were also moments when someone would say something relating to the protest that was entirely out of line but mixed with the 'Nigerian humour' which was hilarious. There was a particular moment when someone was being interviewed at the protest and in the middle of discussing her opinion she said, "Buhari has been a bad boy." President Muhammadu Buhari is the current president of Nigeria and was so also at the time of the protest, but something about a Gen Z calling the commander in chief of the federal republic a "bad boy" for not heeding to the request of the people set Twitter ablaze. It became a trending topic weeks after and it was all anyone could talk about besides the protest. 
Humour can be used as a coping mechanism, something we might use to avoid the things we need to confront but it can also be used as a healthy distraction. As was the case with the protest in Lagos. The trauma from watching people run from bullets got to me and even though I was not physically in Nigeria at the time of the protest I remember being so engrossed in the news that I was afraid to leave my house in Toronto because I thought I was in Nigeria. Another important thing humour does is it kickstarts creativity. There are a ton of Instagram pages that post memes tailored to Africans and anytime I feel stressed or when I'm faced with writer's block I click on one of these pages and get a good laugh. After a while, I feel rejuvenated and inspired to continue writing. 
Humour plays a huge role in how we function as humans; not just in our ability to laugh at something that is and was intended as a joke but it is an important ability to find humour in one's life even when things seem more negative. Take the pandemic, for instance, the fact that so many lives were affected so terribly is never going to be funny but on the other hand, people were literally hoarding toilet paper! The memes from that alone helped people feel more at ease, knowing that they were not alone and that we could all relate to each other's struggles. Humour provides a sense of community based on our individual yet similar lives.  
—
Leave your thoughts for Emily in the comments below — better yet, start up a dialogue with the Low Entropy community in person at a Conscious Connections meeting or online at our community site. You can also follow us on Facebook, Instagram, TikTok, Twitter and YouTube to stay up-to-date with Low Entropy news!
GET INVOLVED
At Low Entropy, we believe changing the world starts with changing ourselves.
Founded in 2015, Low Entropy Facilitates conversations that encourage diversity and promote inclusivity.

We understand that life can be confusing at times. It can seem challenging and sometimes you may feel like no one really "gets you." We offer an opportunity to connect with others who have the capacity to understand you.