The Weight of Expectations
November 10, 2021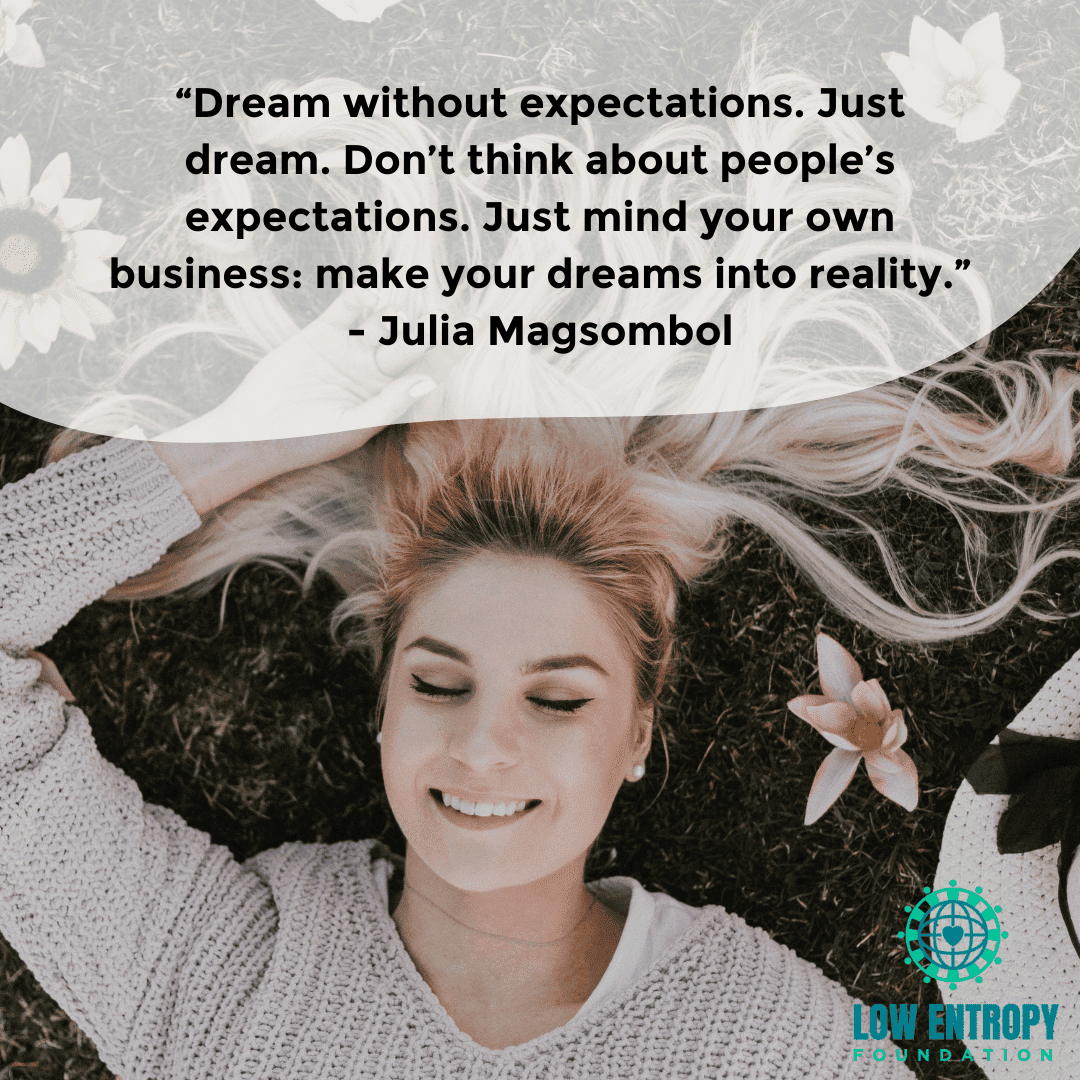 Julia Magsombol (she/her/hers), Low Entropy Volunteer Writer
As I'm writing this right now, I tend to wonder if this piece will be good enough for the reader's expectations. 
It's been a few days since I've had free time. I've been swamped with all my university projects and other work. I barely have time to talk to people and mingle with my family at home. I mostly lose track of time, as I have a lot of things to do. I have a lot of things to write. 
And with all these responsibilities, I tend to ask myself, "What do you want to achieve, Julia? What are your expectations?"
My expectations change every year. I tend to be confused about the things I really want.
I knew I wanted to be in the fashion industry when I was still in high school. I expected to take fashion courses when I reached university. I expected my work to be on runways when I got older. But those expectations are all gone, as my family does not want me to pursue those dreams. They expect me to take different courses, such as nursing, dentistry, or anything else that's not associated with art. Sadly, I dropped my dream and never pushed the expectations that I longed for.
As I reached the end of high school, I wanted to be a writer. I was still unsure then, but that was my main goal. I decided to take journalism in university. After all, journalism is a degree and my family pretty much accepted it. 
During my first year, I thought that all my challenges were done. I expected that, once I finally got into university, I was going to be okay. I expected to just get my degree and prove something to my family. I could move on to the next phase of my life afterward. But it didn't work like that. I faced failures and self–doubt. Now, in my third year of university, I've had to throw away those expectations again, as this phase of my life didn't work as I expected. 
I told myself during those times that I would be working as a journalist by the time I reached my senior year of university. I expected to be a successful writer. I expected to be very different from other writers out there. Employers would get back to me after interviews and turn me down for jobs for two reasons: they said I wasn't qualified, and that I'm not a good writer. Several of my editors, professors and colleagues were not pleased with all the pieces I wrote. I would rewrite and rewrite, over and over again. There are a lot of better writers out there who I couldn't compare to. I threw out my expectations again, like a useless scratch paper into the trash can. 
I realized that I've been throwing out a lot of expectations. And it all feels like a scam. Every day you set expectations for yourself. You have motivations and plans. It feels good, and it's comforting. But if none of your expectations work, you might doubt yourself. You might criticize yourself for all the expectations you made, when you expect something but never get it. I guess that's life and it isn't always fair for many of us. 
So now I ask myself, "What do you want to achieve, Julia? What are your expectations now? Should you still expect anything? What expectations do I still have?"
In the end, I realized that we all have different expectations in life. The expectations I have might conflict with other people's expectations. The expectations I set for myself changed because of the expectations of other people. I set my expectations according to others' expectations. So what's good about expectations? 
It's hard to grasp all these ideas, but I had this vision:
Maybe I should dream instead. Dream without expectations. Just dream. Don't think about people's expectations. Just mind your own business: make your dreams into reality. 
I realized that I can never meet anyone's expectations because I am me. And that's enough, as long as I'm doing my best and I have a reason to do things. It's all enough. 
I hope I and others can live with this vision soon, without regrets. 
—
Julia Magsombol is currently a journalism student from Edmonton, Canada, who desires to bring hope to people through her writing. When not writing or reading, you can catch her sewing clothes, painting nature and drinking instant coffee.
GET INVOLVED
At Low Entropy, we believe changing the world starts with changing ourselves.
Founded in 2015, Low Entropy Facilitates conversations that encourage diversity and promote inclusivity.

We understand that life can be confusing at times. It can seem challenging and sometimes you may feel like no one really "gets you." We offer an opportunity to connect with others who have the capacity to understand you.