There for a Reason
November 7, 2021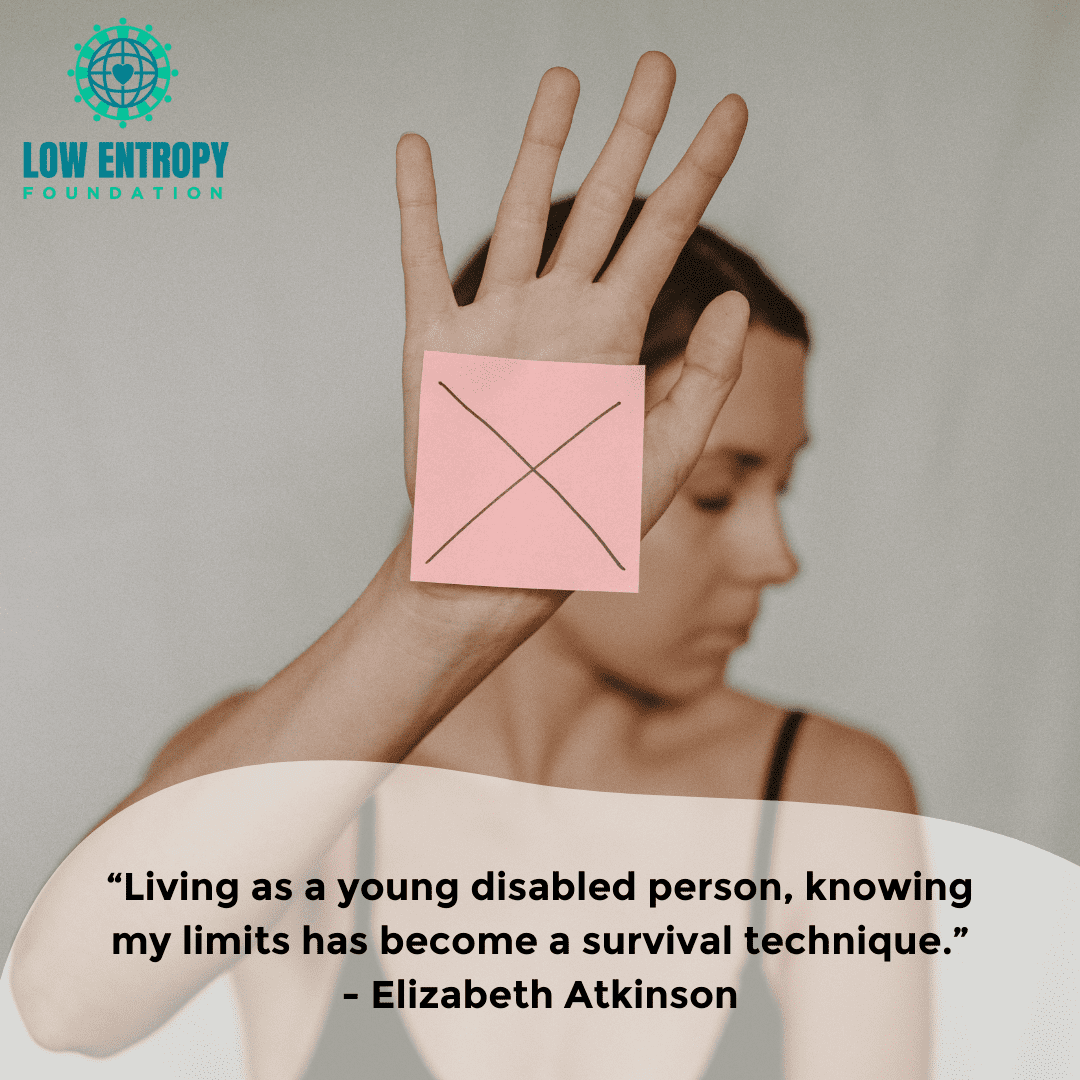 Elizabeth Atkinson, Low Entropy Volunteer Writer
There is so much pressure to succeed and make use of every hour of the day – but at what cost? 
Living as a young disabled person, knowing my limits has become a survival technique. With fibromyalgia, overexertion can cause flare-ups that can be detrimental and throw a wrench into future plans. It is not always easy to stay true to your limits. There can be a lot of pressure to physically keep up with your able-bodied friends and family. This can be something as simple as walking at a pace you are not comfortable with, just to keep up with your friends who don't need to worry about conserving their energy on a short walk. Feeling safe emotionally by being able to voice these limits is key. The people around you will understand, and hopefully accommodate the limits you have set for yourself. 
However, it is not just disabled people who need to know their limits. It seems more and more these days people are being praised for "the grind" and while I am a fan of hard work and a strong work ethic, working to the point of exhaustion is just not healthy. People seem to be running on empty, as if their check engine light is on but they aren't taking the time to look under the hood and find the root of the problem.
Limits aren't just physical. Limits are there for a reason, whether they are physical or emotional. Knowing your emotional limits is key for setting boundaries. Personally, I have had to set limits with my family about them talking to me about my weight. I have had to set that boundary with them as it was causing my mental health to deteriorate and causing a strain on an otherwise absolutely beautiful relationship. By setting this boundary, and knowing my limits with my family, I was able to preserve something amazing. 
As previously mentioned, there can be a lot of pressure to forgo your limits in order to make life easier for the people around you. This, however, will not serve you in the long run as you become run-down. Emotionally setting limits and sticking to them is potentially even harder than setting and maintaining physical limits. 
In my opinion, pushing your limits is always overrated because limits are there for a reason, and that reason is to protect you. Staying true to your limits is a good way to ensure a happier, less stressful and more energized future for yourself.
—
Leave your thoughts for Elizabeth in the comments below — better yet, start up a dialogue with the Low Entropy community in person, at a Conscious Connections meeting or online at our community site. You can also follow us on Facebook, Instagram, TikTok, Twitter and YouTube to stay up-to-date with Low Entropy news!
GET INVOLVED
At Low Entropy, we believe changing the world starts with changing ourselves.
Founded in 2015, Low Entropy Facilitates conversations that encourage diversity and promote inclusivity.

We understand that life can be confusing at times. It can seem challenging and sometimes you may feel like no one really "gets you." We offer an opportunity to connect with others who have the capacity to understand you.