What I've Found While Searching for a Job
January 20, 2021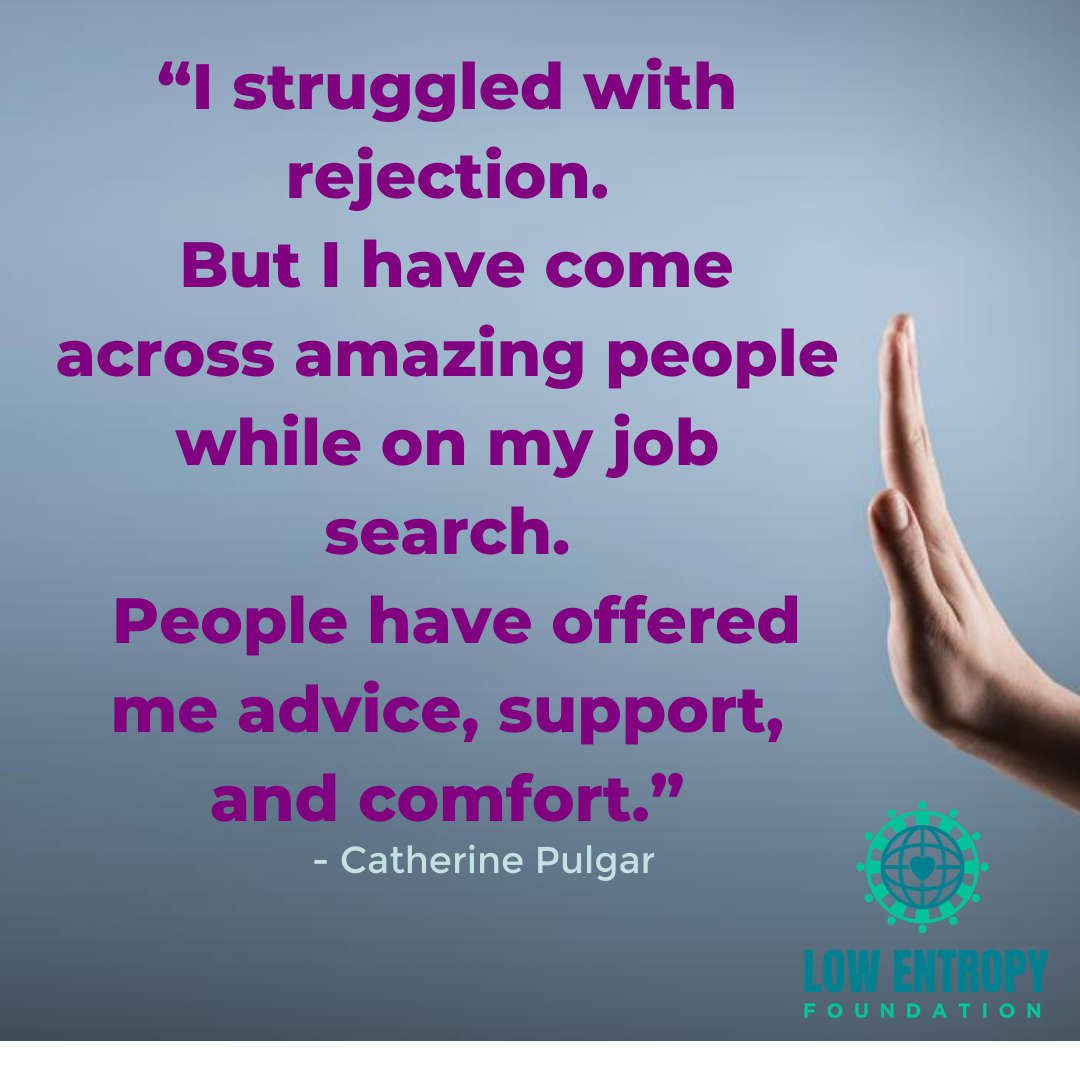 Unemployment is not only a source of rejection and self-doubt for many – it can also impact your very livelihood. With persistent optimism, Low Entropy Volunteer Writer Catherine Pulgar shows us how she is navigating this difficult period in her own life.
The job search is so challenging, especially if you are a recent graduate. In my own experience, every time I read job posting – even an entry-level one – I doubt myself. "Am I qualified? Look at all the skills and experience they require…"
I'm still working at it, as I've been searching for a marketing position since late July. Some days are better than others, due to the financial problems that come with being unemployed. However, job searching in itself has been an opportunity to learn skills. I've developed an increasingly calm approach to my job search, by reminding myself that I've been applying my skills in other valuable ways, including volunteering for two organizations.
But being grateful and cheerful in this situation can be challenging. For example, I had a fantastic interview a few weeks ago, but received an email later saying they moved forward with another candidate. It was disheartening and discouraging. However, I've found I must honour the emotions that come with these vulnerable experiences. This was not my first rejection, and I have been learning constructive ways to overcome the sad, angry or hopeless feelings that can arise in situations like this.
Each person has their own way of handling rejection. It's easier for some than others. In my case, since starting my job search journey, I have come up with ways to deal with the stress and its impact on my mental health.

Writing a Reflection Diary: This is a great technique where I write out my daily accomplishments, challenges, or tips for things that I may want to improve. I write at least three phrases almost every day about things in my life that I am grateful for. It helps me stay positive, just remembering the bright side of things, and that we can always find something positive, even in the most stressful moments!
Working Out: Even though I'm not a fanatic about working out every day, it is an excellent endorphin source that helps me clear my mind, relax and reach internal peace.
Meditating: Sometimes I practice meditation and yoga, because I feel these two activities are a great way to release stress and balance my body.
Still, during this time, I struggle with rejection. But I have also come across amazing people while on my job search path. People who have offered me advice, support and comfort. My partner Victor told me, "If you do not have this or that skill, study and master it." Thanks to him and others, I have cultivated my perseverance to keep studying and learning.
Remember that if you do not have a skill or experience, do not feel bad. Every person started from scratch until they became masters in their field.
Do you have any tips on how to handle the emotional toll that unemployment can bring? Your experiences and advice could make a big difference in someone's journey – share them in the comments section, or at a Low Entropy meeting.
GET INVOLVED
At Low Entropy, we believe changing the world starts with changing ourselves.
Founded in 2015, Low Entropy Facilitates conversations that encourage diversity and promote inclusivity.

We understand that life can be confusing at times. It can seem challenging and sometimes you may feel like no one really "gets you." We offer an opportunity to connect with others who have the capacity to understand you.