When Good Things Happen to Bad Habits
January 24, 2021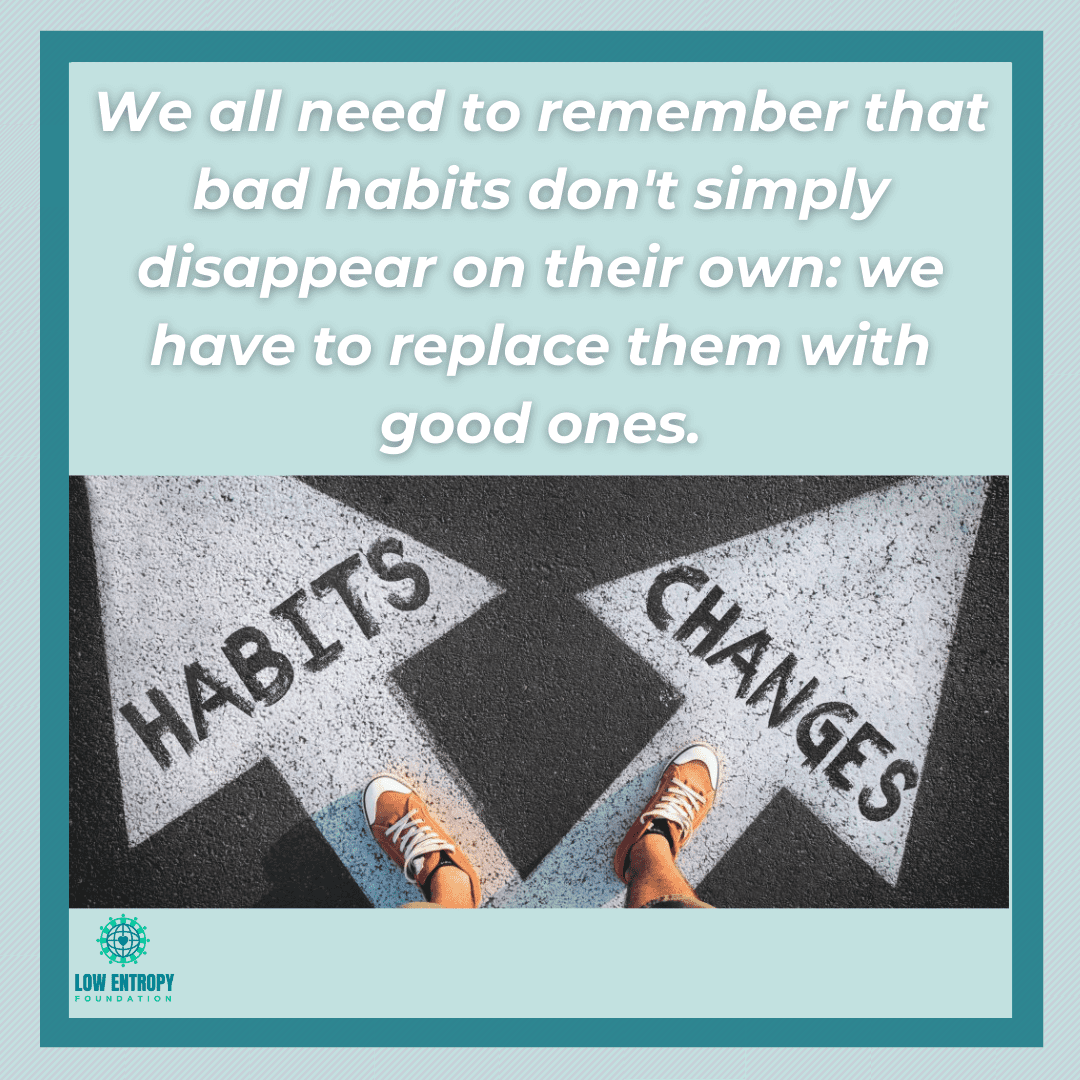 Cooking up good habits can be a long, frustrating and disheartening process. Low Entropy Volunteer Writer Nahid Nowrozi shares her best methods to break bad habits while keeping your self-confidence intact.
"A bad habit never disappears miraculously, it's an undo-it-yourself project."
-Abigail Van Buren
It is crazy to me that a person's mind can be so strong and yet so fragile and vulnerable when it comes to lifestyle changes. We've all struggled with feeling guilty after spending too much time on our phones instead of being productive, especially during quarantine when being busy felt like an unpleasant option. We all know that during this COVID situation it has been difficult to start new things, but there must still be ways to improve ourselves, right? I am in good health, I study, I exercise, I tutor and I volunteer, but it is still easy for me to fall into bad habits. Usually, the feeling of guilt is strong enough for me to never do something bad again.
But why do I keep indulging in the same bad habits?
Studies say that bad habits are mostly caused by stress, boredom and deep-rooted issues. The reason bad habits exist is that they provide some type of benefit in your life: usually pleasure, comfort or satisfaction. That's why it's difficult to put an end to them quickly.
Then how do I change this situation?
I start by focusing on why I want to change a bad habit. Generally, it's because the consequences affect my well-being. My behavior around other people can also become unpleasant. For example, as a student, sometimes I have to sacrifice a few hours of sleep to finish projects. Sleep is something very valuable and beneficial for me, and I have to prioritize it. We have to remind ourselves constantly about unwanted consequences in order to not fall back into a habit and make the same mistake again.
One thing that helped me a lot was making weekly challenges that turned into monthly challenges, until that behaviour became a good habit. They say it takes anywhere from two weeks to even more than a year to form a good habit, depending on the person and the goal.
To improve my sleeping habits, I started by turning off all my electronics and forcing myself to read or journal instead. This would tire my eyes, making me sleepy. Before this change, I would sleep at around 1:00 a.m. That slowly improved to 11:00 p.m. Every week I would try to sleep one hour earlier, which meant that I would wake up one hour earlier. In the morning, I would get my work done more efficiently.
Whenever I listen to people talk about their struggles with bad habits, I notice one thing that seems to cause a lot of problems: often people are not aware of how they truly feel, or how a habit affects them. If you don't know how to feel, how are you supposed to choose your actions properly? If you only make yourself feel guilty, how are you supposed to consider your behaviour clearly?
If you are able to understand and accept your feelings, you will notice that there are so many new options that could help you. Learning to control your emotions and reflecting before repeating a habit will become invaluable, and you may notice that you don't enjoy the habit as much as you think you do. For example, if I don't sleep enough, I won't be able to focus on my work during the day, I won't be energetic and I will be very moody. In the long term, lack of sleep has been closely associated with hypertension, heart attacks and strokes, obesity, diabetes, depression and anxiety, decreased brain function, memory loss, weakened immune system, lower fertility rates and psychiatric disorders.
Imagining yourself succeeding without your old habits is a great way to motivate yourself. To make this happen, I distract myself from what triggers my bad habit by changing my environment and my surroundings. The more time you have at your disposal, the more likely you are to indulge in a bad habit. In my situation, I shouldn't watch TV or scroll on my phone until I am done with schoolwork for that day. What can I do instead? Other than finishing my schoolwork, I could take a nap, exercise, volunteer or spend time with my family.
This approach can help us make a fresh start, but I know what you're thinking: what if I return to my old habits?
The more you try to entirely suppress your thoughts, the more you're likely to revert back to a bad habit. We all need to remember that bad habits don't simply disappear on their own: we have to replace them with good ones. And remember, we're only human, and it's hard to always stick to one routine. You might fail a few times, but it doesn't mean you're striving for the impossible. Forgive yourself and be patient – give your mind the space to gradually control your behaviour, and good habits will follow.
How do you break a bad habit? Share your thoughts and tips in the comments section. You can also explore Low Entropy's services for opportunities to discuss the difficulties of breaking bad habits in a supportive environment.
GET INVOLVED
At Low Entropy, we believe changing the world starts with changing ourselves.
Founded in 2015, Low Entropy Facilitates conversations that encourage diversity and promote inclusivity.

We understand that life can be confusing at times. It can seem challenging and sometimes you may feel like no one really "gets you." We offer an opportunity to connect with others who have the capacity to understand you.