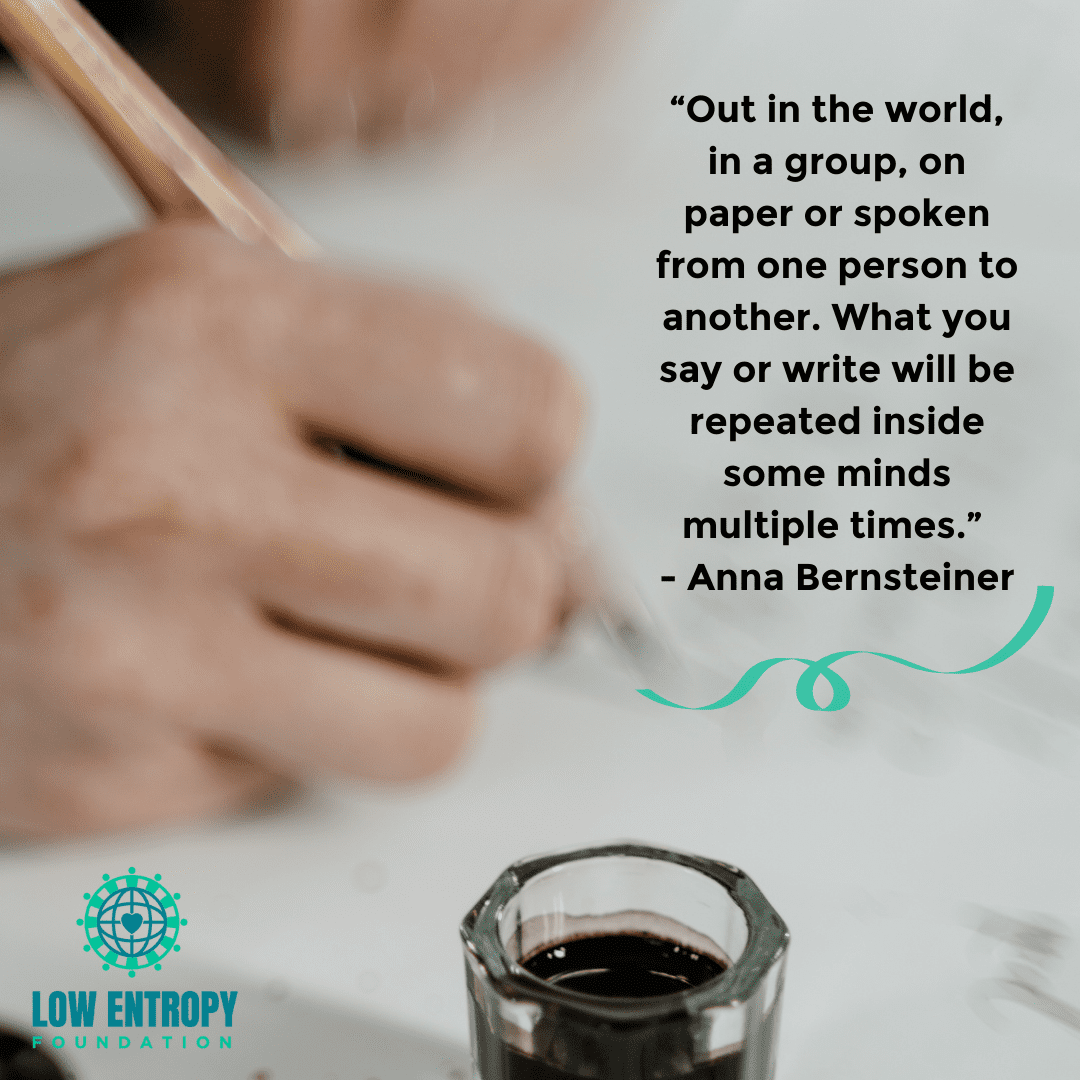 Anna Bernsteiner (she/her/hers), Low Entropy Volunteer Writer
I have been writing my whole life. When I was seven I wrote a story about five cat superheroes who saved the world. It never got to be the bestseller I wanted it to be, but it makes me laugh out loud when I look at it now. 
I always just wanted to get all the words out of my head. You see, I, like so many others in this social media society, think way too much. If you could hear what's going on in there you would understand. So since I can write, I write. I don't really think I'm particularly good at it, but it makes me calm and feel like anything is possible. Because paper is patient. And I don't need to filter what I write, I can just go for it. Everything that comes out lands on that white piece of paper. It's patient and not very judgmental.
I have written stories with 200 pages and sometimes poems that have just one line. I have tried writing about events that are true and about things that aren't. I moved the lines, created, destroyed, switched languages. You name it, I have tried it. 
So I'm just following the words that my head arranges and bringing them to paper. One word at a time. You don't need to be particularly good at something to do it. If it makes you happy, go for it. 
And every time I start, I feel a little bit better afterward. The plan was to create a range of words that people would enjoy. I used to want to write a bestseller, and now I'm just excited if one person is touched by what I write. And that person, most of the time, is my mum and sometimes my dad, and that makes my day.
Recently the world went upside down and a range of events in my life left me wordless. Something that I have never experienced before. The words used to flow out like water in a stream but there was nothing. Just like people were leaving, the words did too. And I didn't write for months. They took my words away.  
Of course, I could have sat down and started writing random words but I had no story, nothing to say, no excitement like I used to. And it took a long time to finally get back to where I left off. 
So why am I writing this now? For no reason at all but for you to see that words are powerful. Out in the world, in a group, on paper or spoken from one person to another. What you say or write will be repeated inside some minds multiple times. Words can destroy or rebuild. 
Words can make a big difference. They do for me.
—
Hi, I'm Anna, I'm a student and I write blogs for Low Entropy. In my free time I like to explore new countries and cultures, try new foods, languages and meet new people, and I try to write interesting articles 🙂
GET INVOLVED
At Low Entropy, we believe changing the world starts with changing ourselves.
Founded in 2015, Low Entropy Facilitates conversations that encourage diversity and promote inclusivity.

We understand that life can be confusing at times. It can seem challenging and sometimes you may feel like no one really "gets you." We offer an opportunity to connect with others who have the capacity to understand you.