The Best of Two Worlds: An Immigrant Perspective on Nostalgia and Longing
May 5, 2023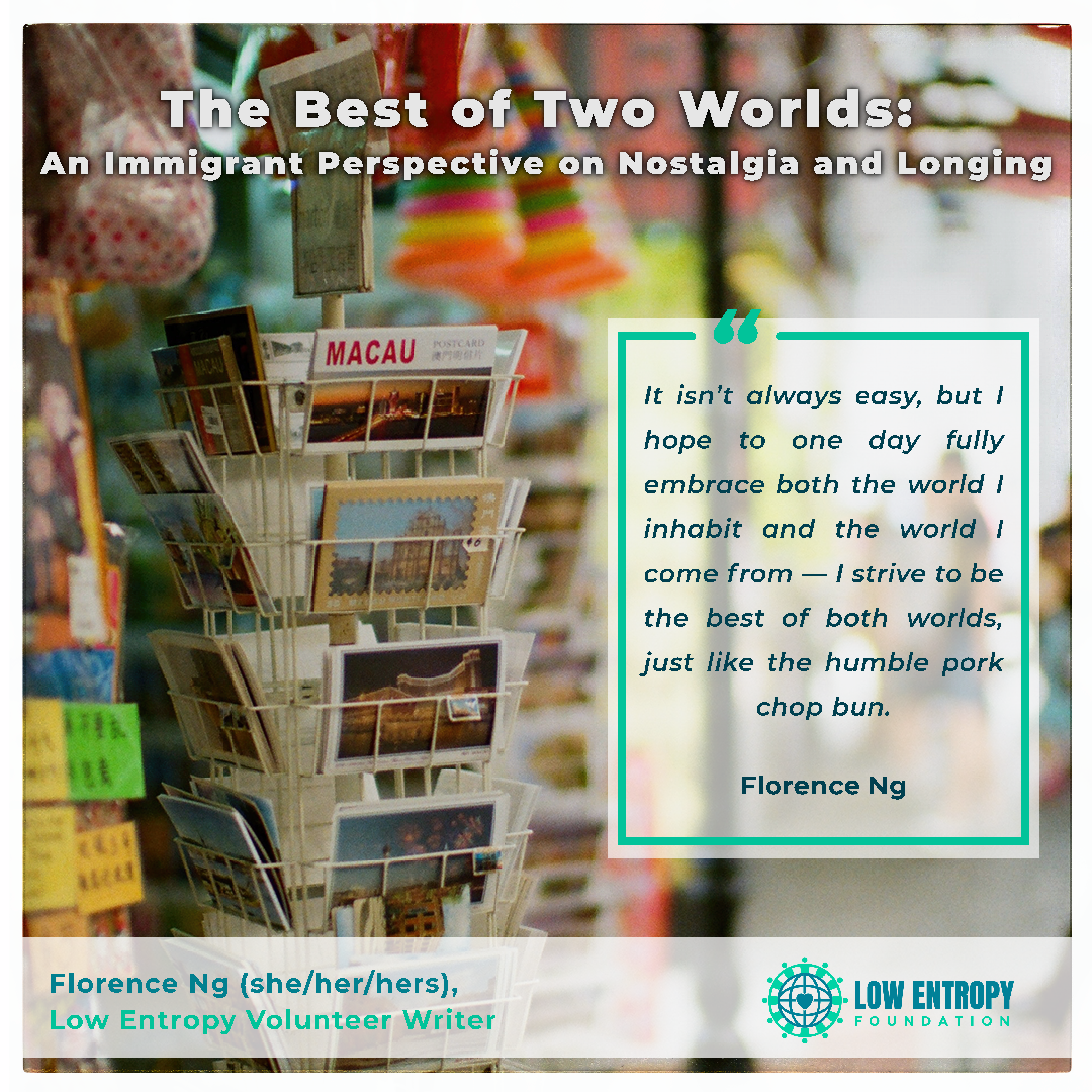 Florence Ng (she/her/hers), Low Entropy Volunteer Writer
For many years now, I've recorded a diary of every pork chop bun I've ever eaten at restaurants across Metro Vancouver. With Vancouver and Richmond's plethora of Hong Kong cafes, there have been many decent options, but they're not quite the same. In fact, I do this with the understanding that I will never find the flavour I am looking for — I'm just continually hopeful that I will find something close. 
As a former colony of Portugal, Macau boasts beautiful architecture, difficult-to-remember Chinese-Portuguese street names and a vast array of wonderful fusion cuisine. For me, the humble pork chop sandwich, or 猪扒包 (literally translated as pork chop bun), is the king of Macanese street food, and there are a lot of great dishes in Macau. The best sandwich is simple: perfectly baked European-style bread that's spongy, warm and a little chewy, and a perfect pork chop, lean but not too lean, with a classic Chinese-style marinade of mostly soy sauce, sesame oil and a bit of cornstarch. The best part is when the pork chop sticks out (and it should), for the perfect ratio of protein to carb. My repetition of "perfect" may come across as a writing faux pas, but I think it reflects the way my memory holds this dish up on a pedestal — it's truly the best of both worlds.
My family and I immigrated from Macau when I was very young, and despite the distance of both time and space, we've maintained a strong sense of nostalgia for the world we left behind. Since we've been in Canada, Macau has gone through waves and waves of changes. With the wealth of the casinos comes many things, including tourism, inflation and the inevitable change in food culture under the guise of health and safety — all hallmarks of so-called modernization. 
One of the most famous restaurants in Macau is Tai Lei Loi Kei (大利來豬扒包). When I was a kid, I remember sitting outside on plastic chairs in the sweltering heat. There were comically large Coca-Cola bottles decorating the perimeter to prevent car access, and it would always be teeming with people, even when the world only knew Macau as little more than a sleepy little fishing village. 
The restaurant as it was in my memory no longer exists. While the brand has grown successful enough to franchise, most Macanese folks will tell you that the new sanitised, fast-food style of pork chop bun might be aesthetically similar, but really isn't the same. My last memory of this restaurant was a franchise inside The Venetian's food court. It was expensive, dry and tasted every bit like the tourist commodity it was. 
The truth is, I haven't had a pork chop bun in Macau in a very long time. When I last visited in 2018, family and friends preferred taking me to parts of Asia's Las Vegas that were clean, quiet, expensive and almost pretentiously grand. Even when I insisted on getting a pork chop bun, my friends and family didn't really know where to take me — "Tai Lei Loi Kei is awful," they'd all insist. Surely, I remember thinking, other places must make pork chop buns, but without the same established prestige, other restaurants didn't seem worth mentioning. It was as if the dish itself, beyond a must-try on every tourist's to-do list, no longer mattered. 
It was as if they'd left this memory of Macau behind and I, an interloper removed from Macau's progress and prosperity, was a quaint alien who dwelled too much in the rosy past. 
I am often nostalgic for my memory of Macanese food. When I was a child, it was ham and egg on a bed of macaroni in oxtail soup. Then, seeing Portuguese egg tarts in local bakeries made me long for the warm, gooey tart from Macanese street vendors. There are fond memories of skewers of fishballs, eel clay pot rice, cart noodles in the wet market, lapis legit, pork chop lo mein in plastic bags and cold shrimp in baths of pickled onion, just to name a few. Later still, I learned of other dishes that have been delegated to tourist traps, like crab congee and Burmese curry noodles — dishes I missed out on from my mother's youth. 
My mother tells me that, no matter how delicious a dish can be, it will never live up to your memory. As someone who longs to see the same Macau we left behind and taste its same flavours, I wholeheartedly agree. Sometimes, I think that my longing for that perfect pork chop bun is simply the extension of longing for a home that no longer exists. Simultaneously, there is a thrill to finding new interpretations of pork chop buns in Metro Vancouver, new flavours built on the legacy of our people. Here too, I can pass on the love I have for the pork chop bun to friends from all over the world.
It isn't always easy, but I hope to one day fully embrace both the world I inhabit and the world I come from — I strive to be the best of both worlds, just like the humble pork chop bun. 
—
Hello! My name is Florence, and I'm an educator, storyteller, traveller, avid board game collector and curious, lifelong learner, among many other things. I'm passionate about human connection and mental well-being, and I love meeting new people!
GET INVOLVED
At Low Entropy, we believe changing the world starts with changing ourselves.
Founded in 2015, Low Entropy Facilitates conversations that encourage diversity and promote inclusivity.

We understand that life can be confusing at times. It can seem challenging and sometimes you may feel like no one really "gets you." We offer an opportunity to connect with others who have the capacity to understand you.