Moving Forward
August 22, 2021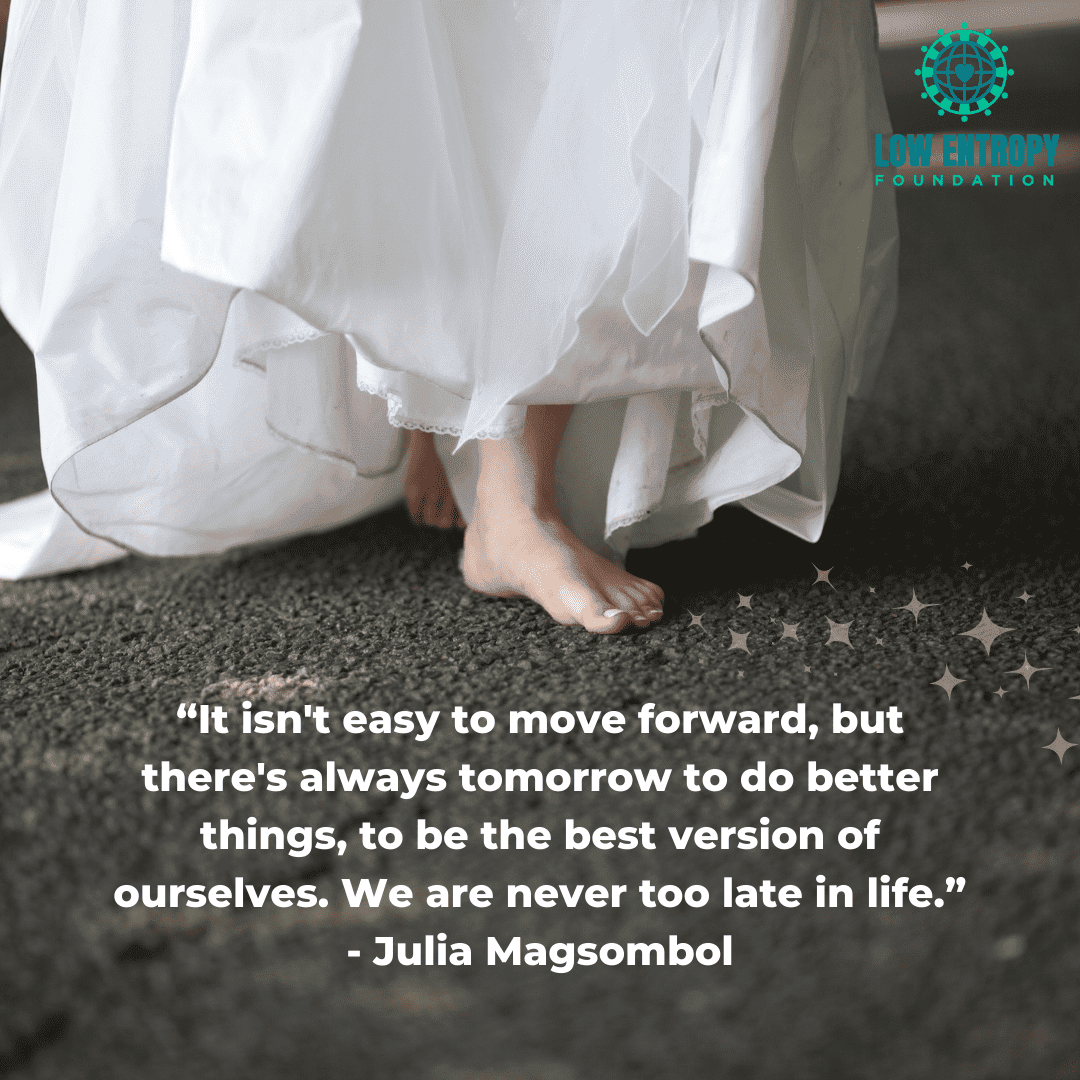 Regrets . . . we've had a few. But, then again . . . Low Entropy Volunteer Writer Julia Magsombol offers some advice on how to get back up and on our way. 
Moving forward in our everyday lives wasn't easy, especially when we have committed many mistakes in the past. We all commit mistakes simply because we are humans. When they become too much to handle, we sometimes get stuck in the past. We can't move forward anymore. Most of the time, our mistakes from the past control us and our lives in the present, which can negatively affect our future. So how can we move forward in our lives when we've made tons of mistakes?
I took different courses, such as philosophy, sociology and ethical studies, in university. In those classes, we talked about several topics and issues that covered advice on how to manage ourselves when we've committed mistakes from the past and how to avoid them again in the future. I would say that those did not help at all. Besides different professors explaining those lectures in a complicated manner, they sometimes added theories on human minds that I couldn't grasp. Those classes were interesting, but I did not enjoy them all. After all, how could those professors or philosophers from ancient Greece tell us to manage our lives with complicated theories? Could those life theories and deep vocabularies help us move forward or make better life choices? Maybe, but I didn't feel like they could. 
I've made a lot of mistakes in the past, and I still do now. I am a human with flaws, and I am imperfect. I've had a lot of failed relationships. Sadly, I've also failed in my relationship with myself. Sometimes I still can't accept my mistakes, and I'm still not healed. I sometimes wake up in the morning thinking if I can still do it. At night, I've been an insomniac, unable to sleep. In short, my past mistakes have controlled me and my decision-making. I have regrets, and I wish I could turn back time. I've struggled to achieve inner peace. I have difficulty accepting my mistakes, but I've figured out coping mechanisms. I've numbered all the things I should remember whenever I want to give up because of the mistakes I've committed, and here they are:
Just cry
Some people think that crying is for the weak, or that crying is for vulnerable people who can't figure out the solutions to the mistakes they have committed. But so what? We are human beings who feel pain. It is alright to cry and let your emotions out. 
Learn from your mistakes 
I know this sounds cliché, but it's true. As the Mad Hatter from Alice Through the Looking Glass said, "You might not change the past, but you might learn something from it." We can't time travel like we see in movies. We can never go back to the time we committed mistakes and avoid them. All we can do is learn from those experiences. 
Don't repeat your mistakes 
Sometimes, when we commit mistakes, we repeat them again. We may never know the real reason, but we shouldn't commit another mistake that will make us suffer more. It is okay to commit mistakes once in a difficult situation, but not repetitively. 
The mistakes you've committed don't define you
Sometimes, we are left with difficult decisions, and we can't do anything about them. We are just humans who commit mistakes in different situations. We are not perfect, so we shouldn't let mistakes define who we are and overshadow the goodness in ourselves. 
Don't hurt yourself 
We might blame ourselves for all the mistakes we have made. Sadly, we might get mad and hurt ourselves, both physically and emotionally. It is alright to get mad, but hurting ourselves isn't right. After all, we only have ourselves in the end. 
There's always tomorrow

.
Annie from Annie sings, "The sun will come out tomorrow, so you gotta hang on 'til tomorrow." It isn't easy to move forward, but there's always tomorrow to do better things, to be the best version of ourselves. We are never too late in life. We are free to live and to do the things we love. Give yourself a chance on your own tomorrow and hang in there. 
I haven't forgotten all the mistakes I've committed or moved on from them, but reading this, the advice I've created for myself, helps me to cope and, sometimes, to get me on track once again. It isn't easy to move on forward when you've made a lot of mistakes. But keep in mind that it is never impossible to move forward. We can always keep trying.
How do you pick yourself up again when you've made a mistake? Let us know in the comments below, or talk it through with some supportive peers at a Conscious Connections meeting!
GET INVOLVED
At Low Entropy, we believe changing the world starts with changing ourselves.
Founded in 2015, Low Entropy Facilitates conversations that encourage diversity and promote inclusivity.

We understand that life can be confusing at times. It can seem challenging and sometimes you may feel like no one really "gets you." We offer an opportunity to connect with others who have the capacity to understand you.