The Highly Personalized Art of Defending Yourself from Cannonballs
October 17, 2021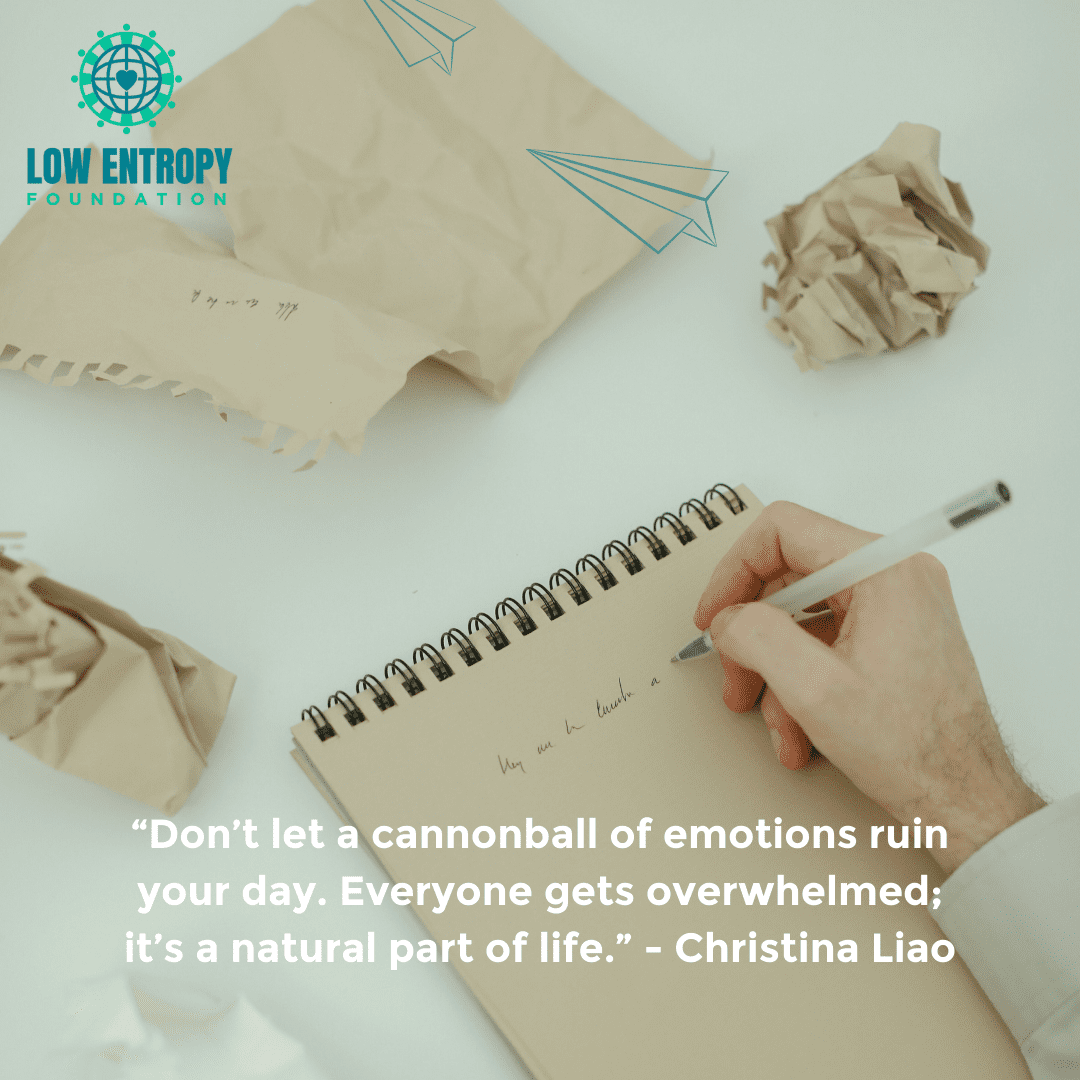 Christina Liao (she/her/hers), Low Entropy Volunteer Writer
Your emotions can overwhelm you in an instant, like a cannonball. One minute, you're walking. The next, you're doubling over from a wave of anxiety. One minute, you feel fine. The next, you feel like you can't get out of bed. You can't move, you can't breathe. The pit in your stomach feels like it will never end. Crisis mode will start in any second. 
This feeling is obviously not great, but did you know that there are ways that you can prevent it? To prevent you from going past the point of no return? One way is to write your thoughts down on a piece of paper, and then just throw that paper away. Whenever you feel like your emotions start to become too much, pick up a pen and lay down a piece of paper. Then, write down everything that you're feeling at that moment. The pen and paper are your friends, your therapists, your muses. Whatever you want to call them. Once you're finished, put the pen down. Crumple up the paper in a tight ball, then throw it into the nearest garbage bin. Don't even keep it so you can read it at a later time, just throw the paper out. If you try to read it, you will just give yourself more anxiety.
Another thing that helps me is reading. It's a great hobby that can temporarily distract you from your own life. You can fight dragons with queens and experience a life-changing type of love, all from the comfort of your couch. If you find that your emotions are starting to take a toll, maybe you should go read a good book as a distraction. I suggest The Invisible Life of Addie LaRue by V.E. Schwab and These Violent Delights by Chloe Gong, if you're interested in fantasy. 
The methods that I've suggested may work for some, but not others. I've just personally found that they're good ways to keep my own emotions in check. Please understand that it's important to control your emotions so they don't become overwhelming, but also know that sometimes you just can't. Everyone has different ways of preventing crises because everyone deals with things differently. You need to find your own way of calming yourself down. Whether it's listening to music, meditating or writing your thoughts down like I suggested, you should have a strategy to calm yourself down whenever you feel like your emotions are starting to take you over. 
At the end of the day, you should be the one to control your own emotions, and not let your emotions control you. You are the one who chooses how you will accomplish that. There are countless articles on how to control your emotions and countless articles that will tell you which one is the best for you. However, you're the only one who can decide for yourself how to maintain a good mindspace. Keeping a good headspace is important, and preserving good mental health even more so.
Don't let a cannonball of emotions ruin your day. Everyone gets overwhelmed; it's a natural part of life.
—
My name is Christina and I am currently a student at Simon Fraser University in the Faculty of Arts and Social Sciences. I love listening to music, reading, writing and, honestly, anything Marvel. In short, I'm a total nerd. I volunteer as a blog writer here at Low Entropy.
GET INVOLVED
At Low Entropy, we believe changing the world starts with changing ourselves.
Founded in 2015, Low Entropy Facilitates conversations that encourage diversity and promote inclusivity.

We understand that life can be confusing at times. It can seem challenging and sometimes you may feel like no one really "gets you." We offer an opportunity to connect with others who have the capacity to understand you.