Happiness, Part Two
July 1, 2022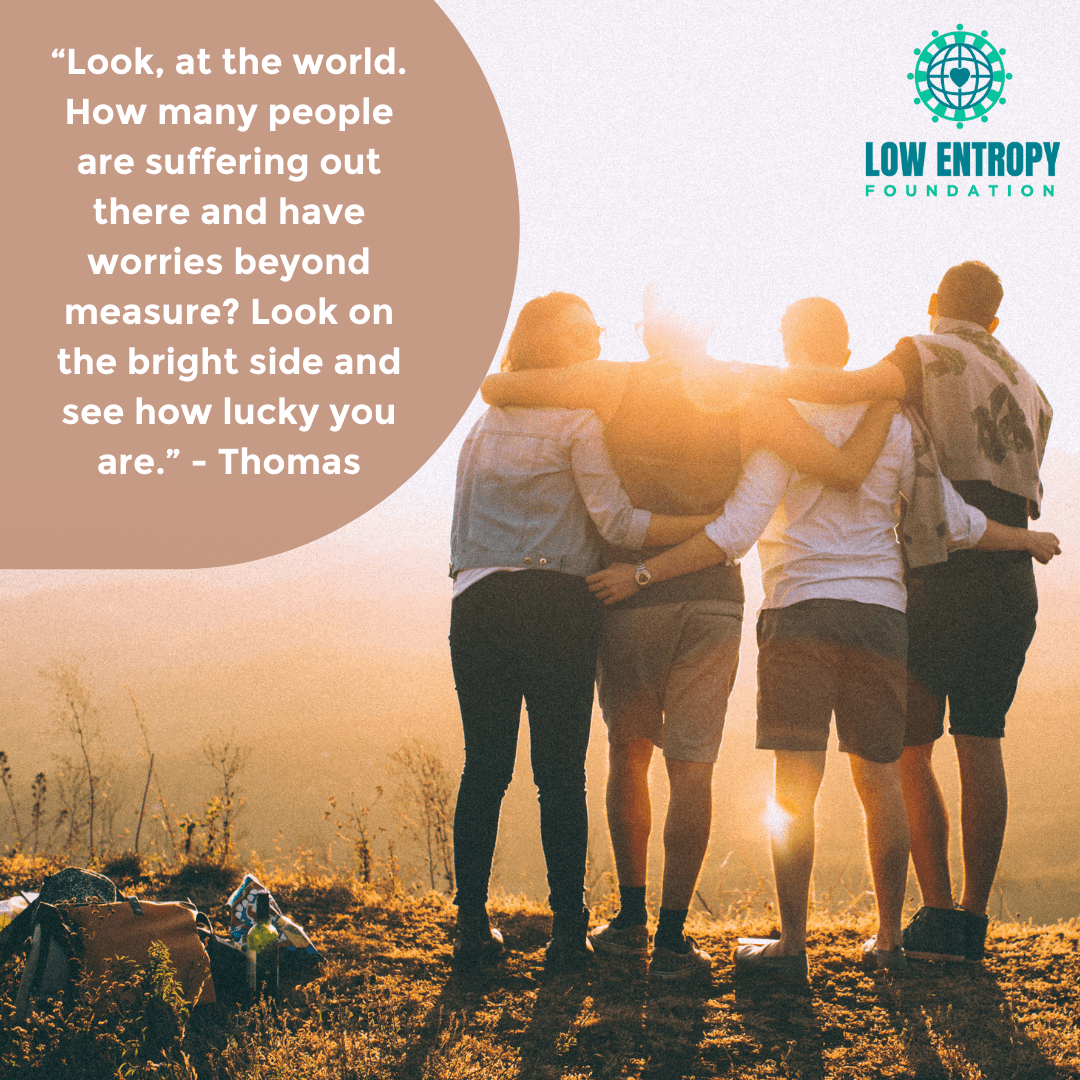 Anna Bernsteiner (she/her/hers), Low Entropy Volunteer Writer
Click here for part one.
These interviews were lightly edited for clarity and readability.
Thomas
Thomas works as a warehouse manager for car parts. He is 61 and about to retire, which he is looking forward to. He wants to finally learn Italian and be able to hike every day. Thomas used to run marathons all around the world, but settled in the small Austrian town of Zell am See, where he lives with his family. His dream was to become a photographer, but he wasn't allowed to pursue this dream when he was younger. He recently bought a professional camera and is now capturing every moment with it. 
If you could do anything without limitations right now, what would you do?
Of course, I would travel more. There are countries I haven't been to, like Norway and Sweden. I would love to travel to South America and North America again as well. 
What makes you get out of bed in the morning when you are having a hard time?
I like to think that it can just get better from here on. 
What does happiness look like to you?
When I'm with my family, mostly. That my wife and daughter are healthy and happy. And my home. 
When do you feel happiest?
Mostly when I'm at home, but there are other forms of happiness. For example, when I'm on top of a mountain looking down in nice weather, after I just made the tough incline. 
When you hear or read bad news, how do you overcome negative emotions?
There isn't anything else but to think things will work out. I think of the crisis in Ukraine. I believe that there are good people out there. I'm hopeful and that helps me. 
Would you say you are truly happy? 
I am happy. I have my family and I'm proud of that. I live in a safe country. That's happiness.
What would you say to someone who is struggling right now?
Look, at the world. How many people are suffering out there and have worries beyond measure? Look on the bright side and see how lucky you are. 
***
Wolfgang
Wolfgang is a 45-year-old teacher at a school for children with disabilities in a small town in the Austrian Alps. He loves to play Scrabble with friends, travel through Europe and enjoy warm weather. He loves being a teacher and pours his whole heart into his job. He enjoys hiking, architecture, history and art. 
If you could do anything without limitations right now, what would you do?
Go on vacation. On a stranded island. Well, an island with very few people. It should be warm. The Canary Islands. Never winter. I like when the sun shines, I don't have to think about what I am gonna wear, just feel the warmth. And I want to save the world, but that doesn't seem to be possible. 
When you hear or see bad news, how do you cope with that negativity? 
It makes me sad and nervous. I can't shut it out entirely. There isn't a cure to having an emotional response to bad news. I like to look at the backstory. What happened, exactly? I wanna be sure of what's really true. It helps to understand and cope with it.
If you had to describe happiness in your own words, what does it look or feel like to you? 
Warmth, feeling weightless. Like being on a plane when it leaves the ground. Peace. A smile. A smile is definitely part of being happy. But happiness can be a place as well.
For me, it would be Gran Canaria or Croatia. Being in those places makes me happy! I'm kind of happy at home, but the real happiness is somewhere else. There is social pressure in small communities, way more than in big cities where nobody really knows you. If I had the money I would move to Vienna. So yes, the location is important.
Would you say you are happy right now? 
Yes. I don't have too many thoughts troubling me right now. I don't have to work tomorrow, but my happiness is not at a 10, it's maybe a seven. You need to leave space for the number 10. There can always be more happiness. But if I were somewhere warm, it would probably be nine.
Is there something that triggers your sadness? 
I think health is a big part of happiness. Health, in my opinion, is 80 percent of happiness. Work as well. I'm a teacher at a school for disabled kids, and some factors can change your entire day. Teachers, parents or even the kids themselves. You can't predict how people act. If I get a new floor, there is nothing that I can't predict, but people are nothing like that. So there are factors outside of my control.
What would you tell someone who is having a hard time and struggling with feeling happy?
My advice is to get help from someone and think about warmer and happier days. It's also helpful to set goals for the future that you want to accomplish. 
***
Julia and Leonie
Julia is in Wolfgang's class and loves to make people laugh. She is 12 years old and currently looking forward to an Austrian holiday called Fasching because she can dress up as anything she wants and eat lots of pastries.
What makes you happy? 
Being around my grandpa. Ice cream and getting to swim in our pool at school. And I have to laugh when someone tells a joke or when I watch a fun movie.
Leonie is very kind, loving and curious. She loves to go to school and see all her friends and teachers. She is 11 years old and also one of Wolfgang's students. 
What makes you really happy? 
Chocolate. Being at school with my friends and my teacher. I feel super warm when I can ice skate and sleep. I loveeee sleeping and playing games on my phone. I have to laugh super hard when someone tickles me, I think that's so funny. 
—
Hi, I'm Anna, I'm a student and I write blogs for Low Entropy. In my free time I like to explore new countries and cultures, try new foods, languages and meet new people, and I try to write interesting articles 🙂
GET INVOLVED
At Low Entropy, we believe changing the world starts with changing ourselves.
Founded in 2015, Low Entropy Facilitates conversations that encourage diversity and promote inclusivity.

We understand that life can be confusing at times. It can seem challenging and sometimes you may feel like no one really "gets you." We offer an opportunity to connect with others who have the capacity to understand you.