Leading: The Way
May 14, 2021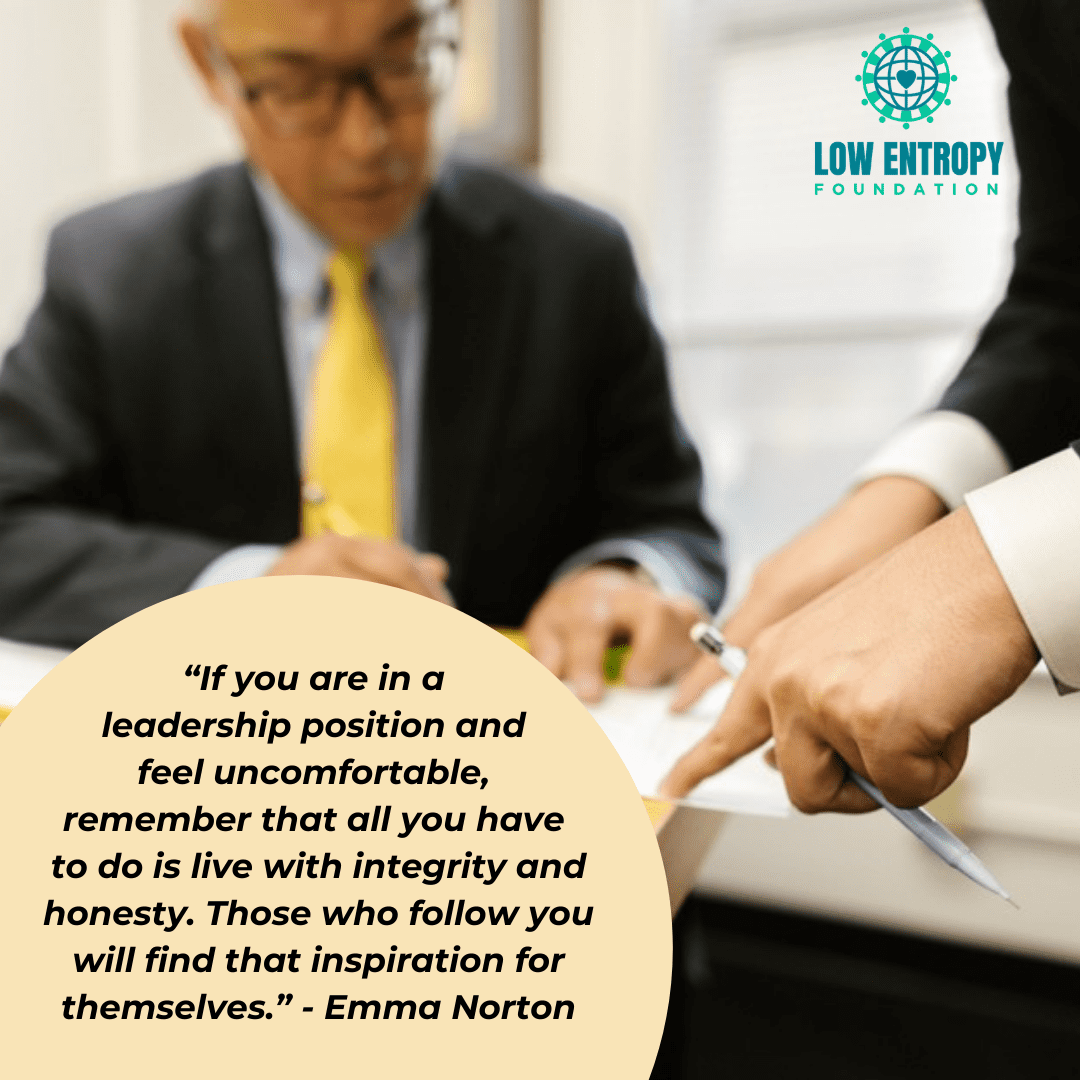 Great leaders are born and made. How? Low Entropy Volunteer Writer Emma Norton explains.
What does it take to be a good leader? Some people are naturals, even born with it. They have a level of strength and integrity that is inherent. 
Alternatively, some leaders evolve through experience. They rise above situations designed to pin them down. A compelling leader refuses to settle and brings their team members along with them for evolutionary growth. The blend of these two aspects provides a leader with the prime positioning for excellence. 
What, then, makes a bad leader? A few global politicos could come to mind, or perhaps an egomaniac boss from your (hopefully) past. Such individuals have misconstrued the role or archetype of a leader. When someone in a position of power takes advantage of their role and forgets the inherent truth that we are all equal and helping each other strive toward change, it not only dims their light, but affects those who, sometimes in a blind trust, follow them. This is what provides a leader with power: it's not necessarily just from their job title, but from everyday interpersonal interactions. In these contexts, the stronger person will always be able to take charge. In that strength, we must remember the keyword of integrity, which some leaders are missing. They use their positions to fuel their insecurities rather than choose humility.
Take the analogy of an athlete-turned-coach. As an athlete, you play a sport for however many years. You learn, you cultivate your talents and you hone your skill set. What would position you as a good coach (a leader) is knowing the sport itself from many angles. You have an innate ability to educate and support an athlete without letting your egocentric needs get in the way, as you are fulfilled and own your position of power. You understand the concept of paying it forward. You take your ability to impact others as a form of responsibility. What makes a great coach is the ability to help their athlete thrive by supporting and pushing them toward success — the same with a leader in any scenario. There is no sense of a threat; there is a strategy toward collective empowerment.
At some point in all of our lives, we are considered leaders. Whether it's as a parent, older sibling or within a professional setting, everyone will face a situation where they can opt to lead with inspired action. A good and empowered leader openly works on themselves and inspires others to do the same. They remain compassionate, yet driven. They create a feeling of safety for those who follow them, and they respect their position of power. 
Whether leadership is, for you, a goal that stems from a desire to obtain a certain status or something at which you have a natural aptitude, there are challenges with assuming a leadership identity. Impostor syndrome can sink in, or the responsibility, at times, can be daunting, especially if leadership is not what you signed up for in the first place. Uncertainty is what causes this stress. It is invaluable to remember to breathe. If you are creating a chain reaction with your choices, make sure they are good ones. An effective leader takes the time to breathe and review everything thoroughly. They do not act in haste, but rather as best they can through the lens of compassion.
If you are in a leadership position and feel uncomfortable, remember that all you have to do is live with integrity and honesty. Those who follow you will find that inspiration for themselves. We can only be human, but the mastery of what we project outward is where true leaders are born. A leader puts out constant reminders to treat others how they would like to be treated. And as a leader, we have to pull others up to our level, not allow trivial and pointed things to drag us down. We may not be able to change others' perceptions, but when we lead with integrity and set our best example, that should be our sole responsibility and concern. 
What makes a great leader in your eyes? Share your thoughts with us on any of our social media platforms, or join our community to engage with the vibrant leaders who make Low Entropy happen!
GET INVOLVED
At Low Entropy, we believe changing the world starts with changing ourselves.
Founded in 2015, Low Entropy Facilitates conversations that encourage diversity and promote inclusivity.

We understand that life can be confusing at times. It can seem challenging and sometimes you may feel like no one really "gets you." We offer an opportunity to connect with others who have the capacity to understand you.